The slow life in Italy
Bookended between the glamour of Rome and Tuscany, the more overlooked region of Umbria is a beautiful destination full of satisfying gourmet delights.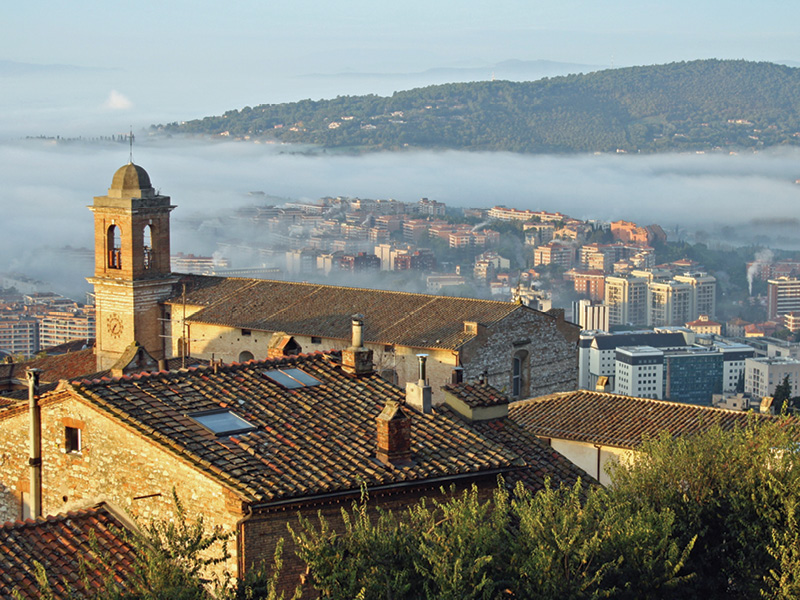 Countryside arrives quickly beyond Rome. Yellow villas stand on hillsides surrounded by the exclamation marks of cypress trees. This is a rich land, where sunflowers bloom, wild horses wade in marshland, and truffles grow in oak forests. Olives and vines were brought here by the ancient Etruscans.
Medieval towns sit on tufa outcrops, proud little city-states of leaning houses and terracotta-roofed chapels. It's a landscape shaped by two-and-a-half millennia of human effort. Naysayers knock it as the poor man's Tuscany, but Umbria is rich in history, gloriously beautiful and a gourmet's temptation. Take your time, and its pleasures are revealed.
Naysayers knock it as the poor man's Tuscany, but Umbria is rich in history, gloriously beautiful and a gourmet's temptation.
Orvieto comes first if you're heading north. It's just over an hour from Rome, and appears in a tangle of railway lines, petrol stations and supermarkets. But look above: Umbria's old towns are crag-clinging and haven't been spoiled by the modern infrastructure that, of necessity, lies below. In Orvieto, visitors ascend in an elevator through rock and find themselves in an old town dense with medieval buildings. Plunge in among old towers, Gothic palaces, and shops selling earthenware. Patterned cobblestones lead towards the chief sight: the improbable zebra-striped cathedral.
The food entices you to linger. Local farmers arrive at the market in Piazza del Popolo with eggs, rosemary, red beets, and flowers; try a nibble of the strange local herb called rooster's foot. Then investigate the alimentare. Orvieto is one of the leaders of Italy's slow food movement, and its delis are bulging with fennel-flavoured porchetta, salami, cheeses, and crespolino pancakes with leeks in a béchamel sauce. Then indulge in gelato; look for a sign that says produzione propria (homemade) and you can't go wrong. Even the simplest scoop is exotic and splendid: mellow mango, tangy tangerine, jasmine with a hint of cinnamon.
Fast facts:

The worldwide Slow Food movement was founded in Italy in 1986 to promote traditional, regional cuisine and sustainable farming. Orvieto, Todi and Castiglione del Lago are noted for their slow-food ethos.

From here you might head to Perugia, which sits high on another hill, eyeballing rival Assisi across the valley. The wide main street of the old town, Corso Vannucci, is lined by buildings in pale pink stone. Gothic Palazzo dei Priori, built in 1297, is one of Italy's great public buildings. It's actually several buildings, including a meeting house for lawyers studded with heraldic crests, two guild houses with elaborate woodwork, and the home of one-time moneychangers, decorated with superb Renaissance frescoes.
Yet Perugia is very much a living town too, and surprisingly cosmopolitan thanks to its university, where foreigners come to study all things Italian. The town has good jazz bars and a lively atmosphere. At Osteria a Priori, you'll find a compact restaurant and food store that has only Umbrian-sourced food, wine, and beers. Elsewhere, locals dine on hand-cut pastas, homemade ragù, pork loin flavoured with Umbrian truffles, or the local speciality, roast suckling pig.
Of all the Umbrian hill towns, Assisi across the valley is the most 'touristy': nearly 6 million people arrive each year to visit the hometown of St Francis. His tomb lies at one end of town, St Clare's at the other. Among the holiness there's plenty of history too. Assisi's old town square has ancient Roman columns from a Temple of Minerva, and the hillside is a cascade of cobblestone streets topped by a papal fortress. The valley below is a spread of sunflower fields and olive groves like a vision of heaven. Heaven too is found in numerous pastry shops, filled with marmalade-sharp 'mother-in-law's tongues', cannoli and almond biscuits.
It might be four o'clock before you stumble out into the afternoon, but what's the hurry? This is Umbria.
For those seeking a fine alternative, Spello is only 14 kilometres down the road, yet a tourism world away. Only locals sit in the bars, and the streets are pleasingly quiet, but Spello still blends impressive art with history and good food. It has an Ancient Roman gateway, sixteenth-century church frescoes, and buildings of pink marble that blush as the afternoon progresses.
At first encounter it appears an aloof, in-bred sort of place, with enclosed squares and secretive, narrow streets and houses so close together on the hillside they're locked in an eternal stone embrace. Then you notice the homely details: plant pots by doorways, neighbourhood women chatting from wooden chairs dragged into the street, kids skipping in alleys.
Settle in for an afternoon of indulgence at Il Molino. The restaurant is housed inside a medieval mill and even has some Roman-era walls. It has arched roofs and a vast fireplace where lamb is cooked over coals. The menu features creative modern dishes using local produce such as black truffle, Norcia ham, mountain asparagus and porcini mushrooms. It's a feast enjoyed in slow time: a flan of pear and melted pecorino cheese, gnocchi with fresh tomato and pancetta sauce, and filet of pork in potato crust with walnuts. It might be four o'clock before you stumble out into the afternoon, but what's the hurry? This is Umbria, and life's to be enjoyed.
Black-truffle capital Norcia is home to Palazzo Seneca, and member of gourmet-focused Relais & Châteaux brand. Its restaurant has a Michelin star for its light, updated Umbrian dishes. relaischateaux.com
Palazzo Piccolomini in Orvieto offers luxury in a renovated sixteenth-century palazzo decorated with considerable contemporary chic. palazzopiccolomini.it
Ristorante Zeppelin in Orvieto is run by Led Zeppelin enthusiast and chef Lorenzo Polegri, who runs one-day cooking classes, culinary weekends, and various other gourmet-minded Umbrian tours. ristorantezeppelin.com
Umbria has a regional airport, located between Perugia and Assisi. The larger, better serviced airports of Rome and Pisa are each around two-plus hours by train to the Umbria region.