Tour of taste: the Bellarine Peninsula
Victoria's beautiful Mornington Peninsula might get all the glory, but there's another stretch of coastline worth checking out in the Australian state: the Bellarine Peninsula.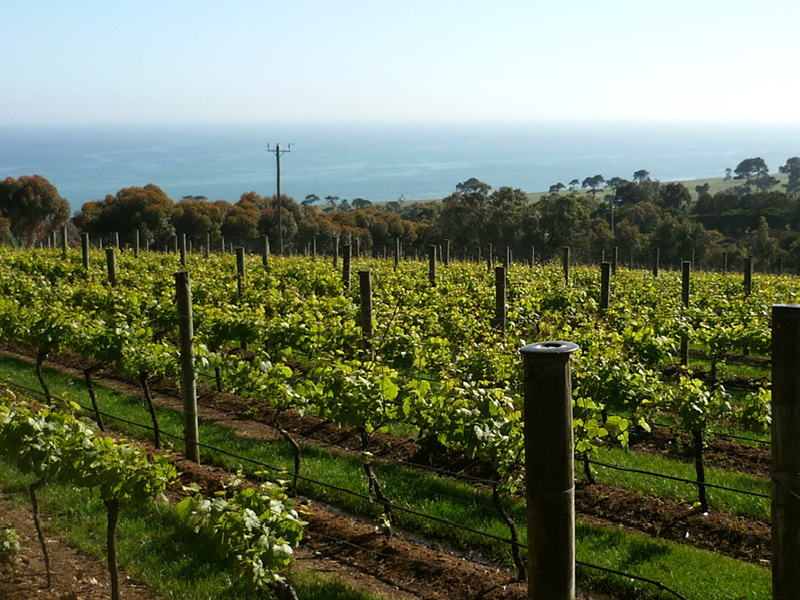 The waiter gracefully places a bowl of salsa verde gnocchi with gorgonzola, broad beans and smoked walnuts right under my nose, but I'm not ready to tuck in yet. I'm dining at Jack Rabbit Vineyard restaurant in Victoria's Bellarine Peninsula and my eyes are transfixed on the view. Floor-to-ceiling windows offer panoramic vistas of greens and blues. I can see across the expanse of water that is north-facing Port Phillip Bay to Geelong. I spy the dark-hued granite ridges of the You Yangs, and far away in the distance there is a blur of tall buildings — the bustling city of Melbourne. Never mind the award-winning food and well-balanced wines, this restaurant is certainly worth checking out for the stunning outlook best enjoyed from the seat at your table — although the food and wines on offer here are something to get excited about too.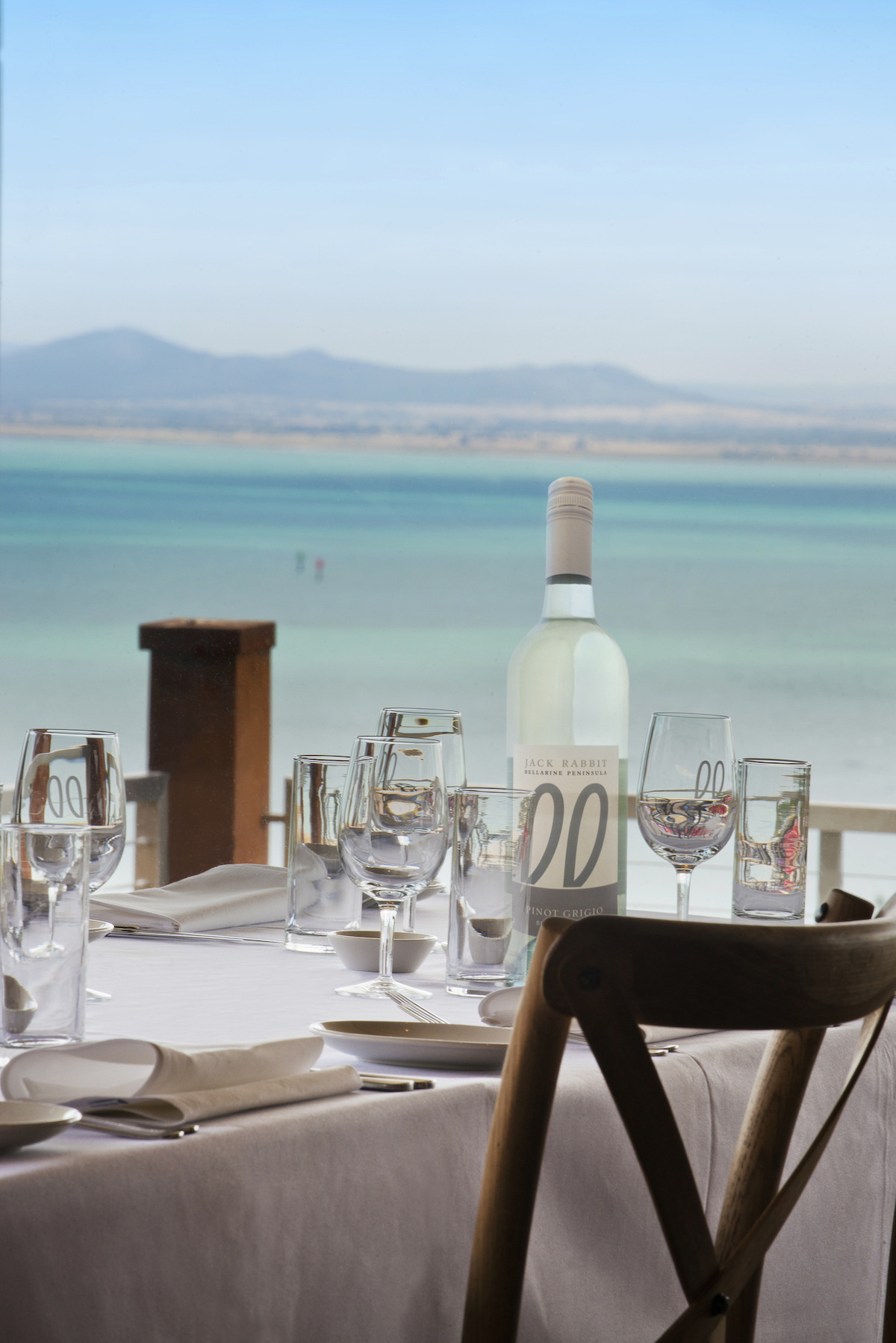 Spend a night in the waterfront city of Geelong before making your way along the coast, stopping at quaint little townships such as Queenscliff, Point Lonsdale and Barwon Heads.
Jack Rabbit Vineyard has earned itself a solid reputation among locals and visitors to the Bellarine Peninsula. It offers a seasonal and refined à la carte menu that complements Jack Rabbit wines available at the adjacent cellar door. There's also a casual dining option, House of Jack Rabbit, which is so popular that bookings are essential.
The venue is my first stop on the Bellarine Taste Trail — a handy guide to help you explore the peninsula, a stretch of headland that boasts more than 40 unique destinations for eating and drinking. From farmgate producers and provedores to wineries and brew houses, as well as low-key cafés and fine-dining restaurants, there's something to spark an interest in every type of traveller.
Cruise the coast
The Bellarine Peninsula is less than two hours' drive from Melbourne's main airport and is most easily explored by car. Spend a night in the waterfront city of Geelong before making your way along the coast, stopping at quaint little townships such as Queenscliff, Point Lonsdale and Barwon Heads.
The harbourside metropolis of Geelong has undergone a renaissance of sorts in recent years. Taking cues from Melbourne's creative scene, it is turning old industrial spaces into modern eateries and hubs, bringing great coffee to the fore, and introducing plenty of cultural offerings. According to Jon Helmer, the owner of Geelong Cellar Door on Little Malop Street, as part of this period of reinvention the city also needed to promote its growing wine scene. 
Geelong was once a renowned region for quality grapes; however, in 1875 a Phylloxera infestation took hold and all of the vines were removed to stop disease from spreading. Jon tells me that these ripped-up vineyards were never replanted and it put a halt on the wine industry in Geelong for some time. It wasn't until the late 60s that a revival slowly took place, and now Geelong is on the path of return, showing some quality reds and whites. Jon's wine bar is all about showcasing that — every item on the wine list is a local drop, and he serves them with a side of tasty charcuterie boards or other bar snacks. It's a buzzing spot to start my evening off before I stroll a few blocks over to the much-lauded IGNI for dinner.  
Housed in the backstreets of the city, through an inconspicuous grey door, is IGNI. It's a sophisticated but unassuming restaurant with chef Aaron Turner at the helm, and is making waves across Victoria and the rest of the country for its unique tasting menu with a focus on the flavours of a charcoal grill. Dinner begins with half-a-dozen snack plates, featuring items such as crackling chicken skin with whipped cod roe (my favourite), oyster leaf — a plant that tastes of the sea — and crunchy salt-and-vinegar saltbush. I'm then treated to ribbons of squid bathing in a broth of chicken fat, and a plump, grilled piece of marron served with fermented cucumbers and a butter sauce, among other small dishes. It's an exciting and atmospheric experience, perfect for an intimate date with a loved one.
Fast facts:
Devlin Apartments, which opened in April 2016, is Geelong's first 4.5-star luxury accommodation offering.
With a full tum and a fuzzy head from too much local wine, I make my way home for the night — to Devlin Apartments, which is also walking distance from IGNI. As I slowly wander up the stairs to my room, I pause for a moment to inspect the images on the lobby walls. There are several black-and-white photos of school students and teachers from a bygone era who used to attend school in the heritage-listed building before it was transformed into luxury self-contained apartments for stylish short-term stays. It's a nice touch bringing the old and new together, and a great talking point with staff.  
Weave your way along the trail
An early wake-up call is warranted because there's a lot to get through. I want to make the most of the Bellarine Taste Trail and tuck into as many local foods and drinks as I can muster up the courage to try. I hit the road, and 30 minutes later I'm approaching the small town of Queenscliff, but that's not my destination yet. I make a quick detour for breakfast at PIKNIK — a converted Golden Fleece roadhouse that serves up the peninsula's best produce, from tomatoes to figs to free-range eggs. Owner Dave Humphris is a friendly and welcoming face, enthusiastically sharing his recommendations for breakfast before pointing to the array of seasonal jams, preserves and pickled fruit and veg on sale. After two Allpress flat whites, a huge truck-stop-style plate of bacon and eggs with all the trimmings, and a handful of take-home jars, I'm ready to face the day.
Over the next four or so hours, I meander my way to some of the recommended hotspots outlined on my self-guided Bellarine Taste Trail map.
Over the next four or so hours, I meander my way to some of the recommended hotspots outlined on my self-guided Bellarine Taste Trail map. I taste spiced jerky mussels at Advance Mussel Café (chewy with a strong chilli hit), sip Pinot Noir at Terindah Estate (strong berry notes with savoury undertones), gulp apple cider on the outside lawn area at Flying Brick Cider House (crisp and refreshing), and dip fresh bread into lime-flavoured olive oil at Lighthouse Olive Mill Shop (tangy and indulgent). I'm starting to feel full and I've barely made a dent in the four-dozen locations recommended!
Quaint little Queenscliff
Fast facts:
The Bellarine Peninsula, together with the Mornington Peninsula, separates Port Phillip from Bass Strait. 
There are even more local delights to be consumed in the welcoming cafés and small shopfronts on the main street of Queenscliff, a little coastal town that is close to the taste trail. However, I decide to change tack to give my stomach a break. Queenscliff's Hesse Street runs through the heart of the township and has lots of little boutiques filled with thoughtful giftware and souvenirs, as well as three galleries all within walking distance of one another: Salt Contemporary Art Gallery at number 33, Queenscliff Gallery & Workshop at 81, and Seaview Gallery at 86. As well as the artwork, Salt is particularly engaging as its upstairs level opens in the evenings to serve cocktails and canapés in a dimly lit space filled with tan leather lounges, green foliage and vintage ornaments.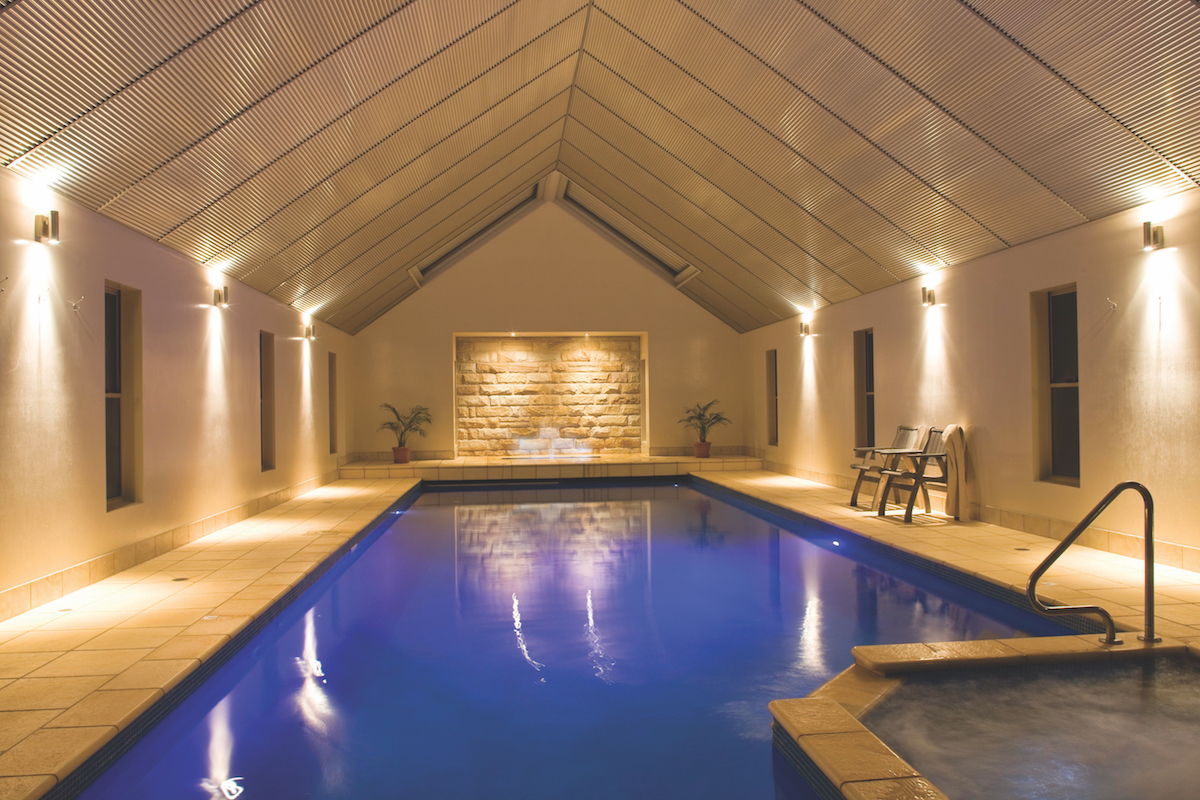 Then just a short drive from the town is Rip View Lookout for unadulterated views of the ocean, as well as Point Lonsdale's uber-stylish accommodation spot, Lonsdale Views. Currently closed for exciting renovations, the hotel is so exclusive it can only accommodate three couples booked in at a time. It boasts its own spa facilities, expansive farmland, adjacent golf course, and secret access to a private beach. 
After a low-key afternoon of lazy beach-side naps and book reading, I don a dress and heels, ready for a sophisticated dinner back in Queenscliff. I'm booked into the Vue Grand hotel's Grand Dining Room for a truly decadent five-course degustation menu. The historical hotel dates back to 1881 and has become an icon in southern Victoria. With its high ceilings and opulent gold trimmings, it feels wonderfully regal, and I savour the opportunity to indulge in style. My standout dishes of the night include the tender kangaroo tartare with hot-pink beetroot ketchup, egg yolk, and sweet potatoes, which has flavour similarities to a cheeseburger, albeit an incredibly gourmet one, and the mouthwatering dessert of tangy passionfruit curd with sweet raspberry, lime and mint granita. 
Beachy Barwon Heads 
It's been a jam-packed weekend in this area of Victoria but I'm not done yet. I've allocated one more day to drive further along the coast to the surf-cool town of Barwon Heads. Driving around is a lovely way to see the sights, but I'm going to go one better and get a view from above thanks to Geelong Helicopters.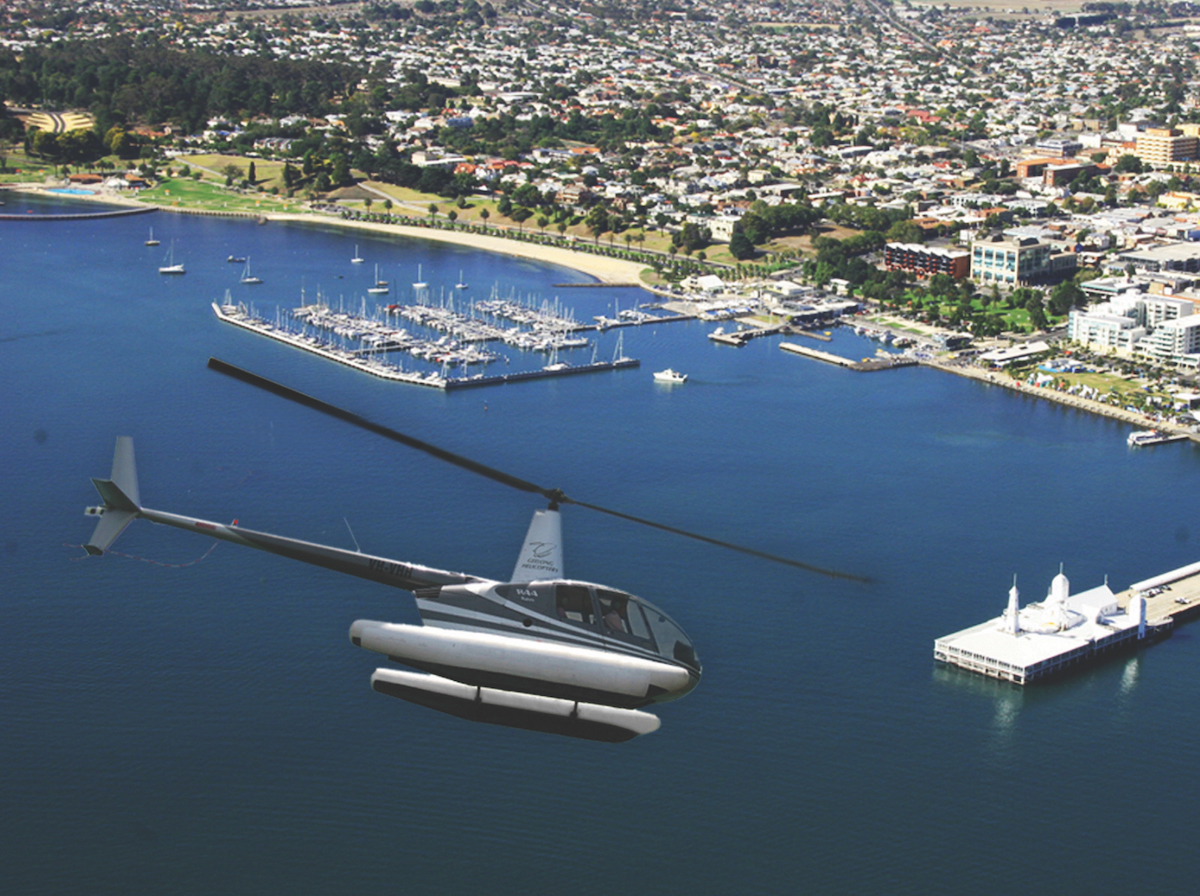 We ascend into the skies and spend a good 15 minutes hovering alongside the clouds as the pilot points out the various beaches and landmarks below, such as the mouth of the Barwon River and the surfers at Thirteenth Beach. It's quite a thrill. Back on land and I drive to Hitchcock Avenue, the main street of Barwon Heads, which is home to several dozen small specialty stores and surf shops. As I breathe in the salty seaside air, I stroll down the strip and take in the beachy vibes. And before I leave, I make a beeline for the Barwon Heads Winestore to pick up one last souvenir before my drive back to Melbourne airport — a bottle of Jack Rabbit Vineyard red to share with friends and family at home.