Updated July 2020
If you ever needed an excuse to indulge in your favourite chocolate treat, there is no excuse better than World Chocolate Day. While we may have to tighten our hip pockets during the global viral pandemic, it doesn't mean we can't stop dreaming about the most expensive chocolates money can buy.
Chocolate has been described as 'a poor man's Champagne', and that's certainly true if you're talking about the confectionery you find in the supermarket.
However, more than 1,000 years ago, the ancient Maya regarded chocolate as the 'food of the gods'. In fact, the Maya even used fermented and dried cacao beans as a form of currency, trading the beans like coins.
To celebrate the decadent sweet, World Chocolate Day (held on 7 July) reportedly recognises the introduction of chocolate into Europe in 1550. Now available all around the world, the quality and price varies considerably.
While some chocoholics are satisfied with any brand as long as they get their fix, true devotees liken it to vintage wine or whiskey. They're willing to pay a high premium to get their hands on the best of the best.
Here, we profile five of the world's most expensive chocolates and find out why they're worthy of their hefty price tags.
World's most expensive chocolates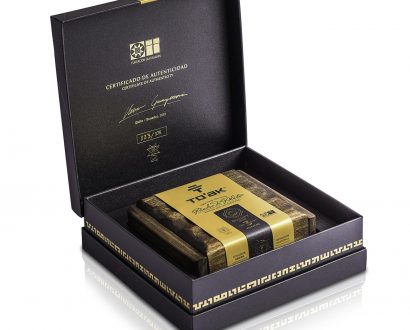 Ecuadorian chocolate company To'ak produces the most expensive chocolate in the world, routinely charging more than A$400 for a single 50-gram bar of chocolate.
"If it were up to us, we would rather be called the world's most valuable chocolate," Co-Founder Jerry Toth says.
To'ak ages its rare cacao beans in a French oak cognac cask for four years. "For the same reason that whisky brands charge more for their older bottles, we charge more for our older editions of chocolate," Jerry explains.
The Art Series Blend combines two vintage editions of To'ak chocolate, creating "a beautiful and exceptionally well-balanced expression of Ecuadorian dark chocolate". This special edition is made from 77 per cent cacao beans and has a six-week waiting list from date of order.
2. La Madeline au Truffe by House of Knipschildt, US$250 (A$348)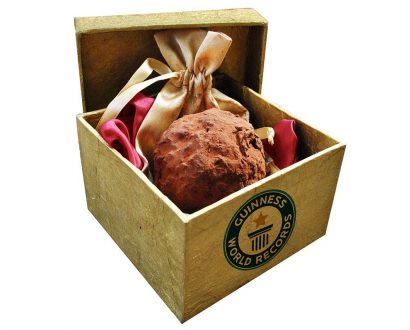 "It's a dark, classic truffle confection; extravagant certainly, but at the same time elegant and clean and unfussy," Danish-born chocolatier Fritz Knipschildt says of his famed creation. "Eating it really is a unique experience."
The jewel in the centre of the indulgent 42-gram La Madeline au Truffe is a rare French Périgord truffle. It's surrounded by a rich ganache, which is comprised of 70 per cent Valrhona dark chocolate, heavy cream, sugar, truffle oil and vanilla.
Fritz describes carefully handcrafting each truffle as "a long and painstaking process". The ganache, in particular, needs to be repeatedly whipped and folded by hand to make it as smooth as possible.
"When you understand how much work has gone into it, you realise that it's worth every cent," he adds.
Beautifully presented on a bed of sugar pearls in a gold box tied with a ribbon, the La Madeline au Truffe is made to order. However, it needs to be eaten as soon as possible as it only has a seven-day shelf life – making it one of the most heavenly of the expensive chocolates to devour.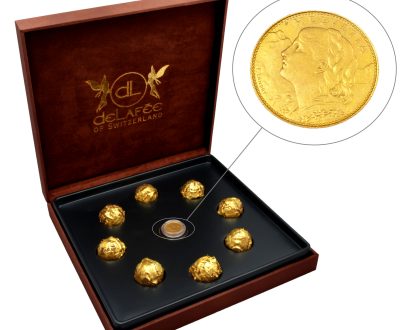 There's something about eating gold that feels particularly indulgent. DeLafée's gold chocolate box contains eight luxurious Swiss pralines adorned with 24-karat edible gold. The box also contains a collectable Swiss gold coin dated between 1910 and 1920.
DeLafée founder and CEO Sebastien Jeanneret was inspired to create gold chocolate after discovering edible gold at a sushi restaurant in New York. "I saw that edible gold looked good on sushi, but [I knew] that it would even look better on chocolate," he says.
"Gold does not have any taste. We use gold for its aesthetic quality and its symbolic value. Gold has a unique warm and shiny glow which contrasts with the dark brown colour of the chocolate. Gold has been a universal symbol of love, success and eternity, making DeLafée's creations powerful and unforgettable ambassadors of people's emotions."
4. Le Livre by Debauve & Gallais, €239 (A$433)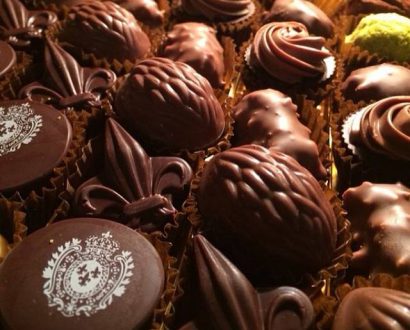 To commemorate this French chocolatier's 200th anniversary in 2000, Le Livre (which means 'book' in French) was launched. Featuring 35 handmade ganaches and pralines nestled in a gold-adorned leather box shaped like a book, Le Livre was such a success that almost two decades later it's still a bestseller.
Debauve & Gallais was founded by pharmacist Sulpice Debauve, who turned his hand to making decadent chocolates when Marie Antoinette complained to him that she did not like the taste of the medicine she had to take. He created a range of exquisite 99 per cent dark chocolate pastilles especially for her. Known as the Queen's Coins, these luxurious chocolate drops are still available today.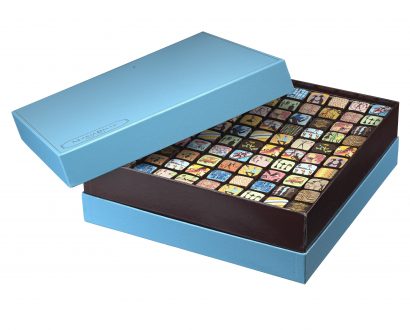 "Life is all about the pleasure and happiness we find in food, art and beauty," MarieBelle New York founder Maribel Lieberman says.
One of the most beautiful of the expensive chocolates are crafted by the Honduras-born chocolatier. Maribel's striking creations are as beautiful as they are delicious and almost look too good to eat. This elegant Ganache Cien Blue Box contains 100 signature Mariebelle New York Holiday Chocolate Ganaches, each made with the "finest single-origin chocolate and eclectic ingredients".
"Luxury is natural, good quality chocolate," Maribel says. "Unfortunately, regular consumers don't know the difference until they taste good quality."
MarieBelle New York's celebrity fans include Oprah Winfrey, Jennifer Lopez, Whoopi Goldberg, Kirsten Dunst, Ralph Fiennes and Susan Sarandon.
Feature image: To'ak Chocolate