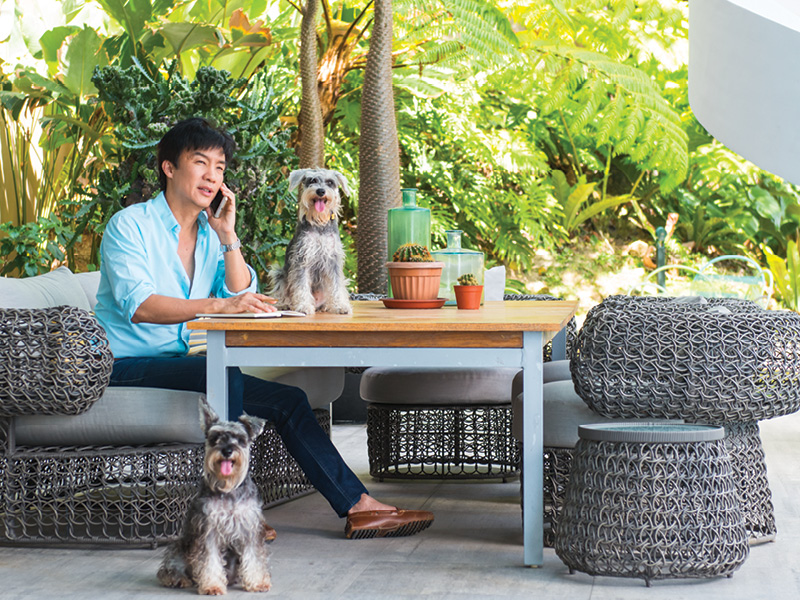 Industrial designer Kenneth Cobonpue has dabbled in playful invention from an early age. With the encouragement of his mother, as a child Kenneth would build his own toys and create his own games in the backyard of his home in Cebu in the Philippines. His mother was an interior designer who created her own furniture for clients and Kenneth recalls, "I spent my free time watching the craftsman and artisans work behind our house, eventually learning how to make my own pieces."
Natural fibres and craftwork of the Philippines
As a multiple-award-winning furniture designer today with a strong reputation both for his creative designs and his dedication to the use of natural fibres and craftwork of his homeland, those childhood experiences have had an enduring, inspiring impact. "I wanted my childhood to last forever so I took up design," Kenneth states. "My mother taught me the value of being unique, original, and true to my calling. In simple terms, she taught me how to reach out and inspire others through design. She is my first mentor and will always be the most influential person in my life."
Kenneth's work combines traditional craft with new techniques to create fresh, modern furniture adored the world over — with clientele that includes royalty, celebrities, luxury resorts and hoteliers. He was named the inaugural 'Designer of the Year' at Maison et Objet Asia in 2014, as well as receiving multiple awards throughout Asia, Europe, and the US. Kenneth has worked in Italy and Germany and he graduated from New York's Pratt Institute with high honours in Industrial Design.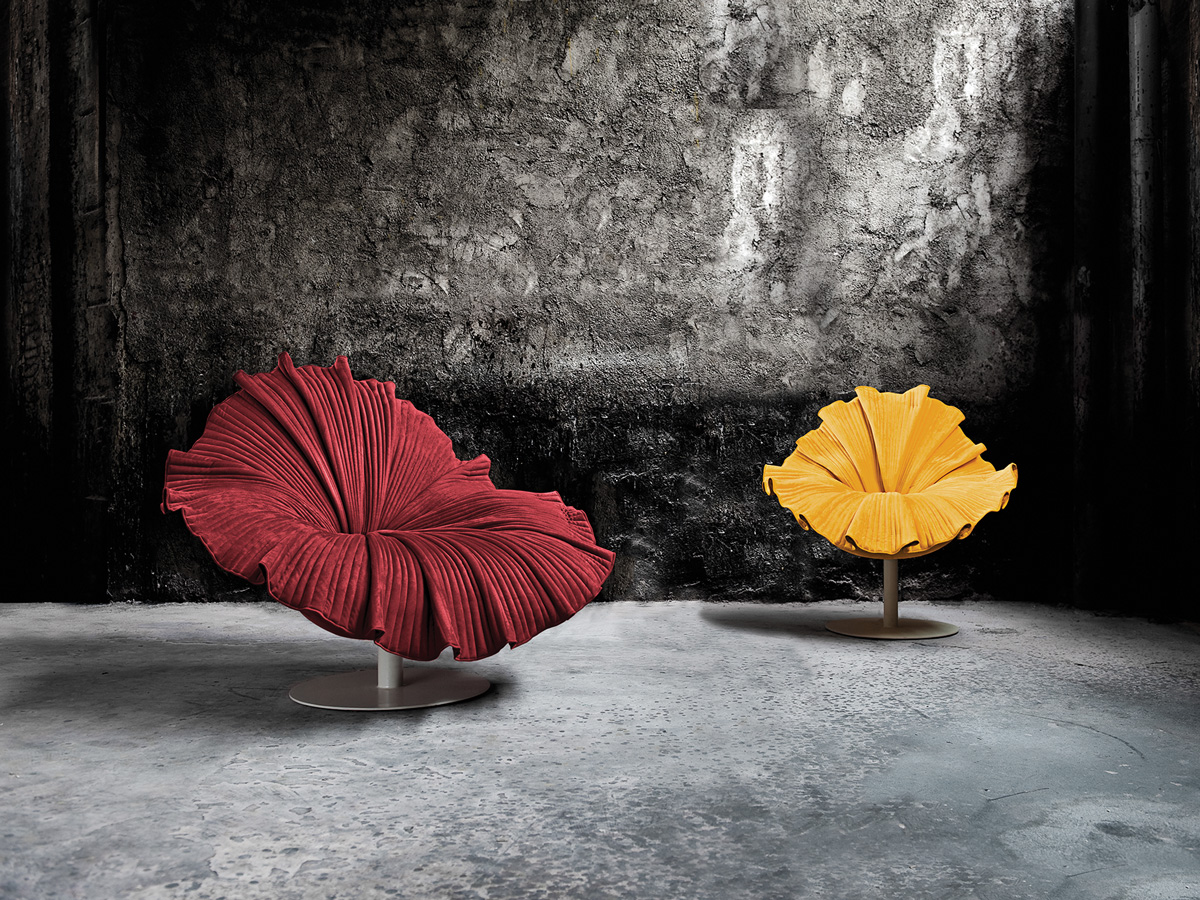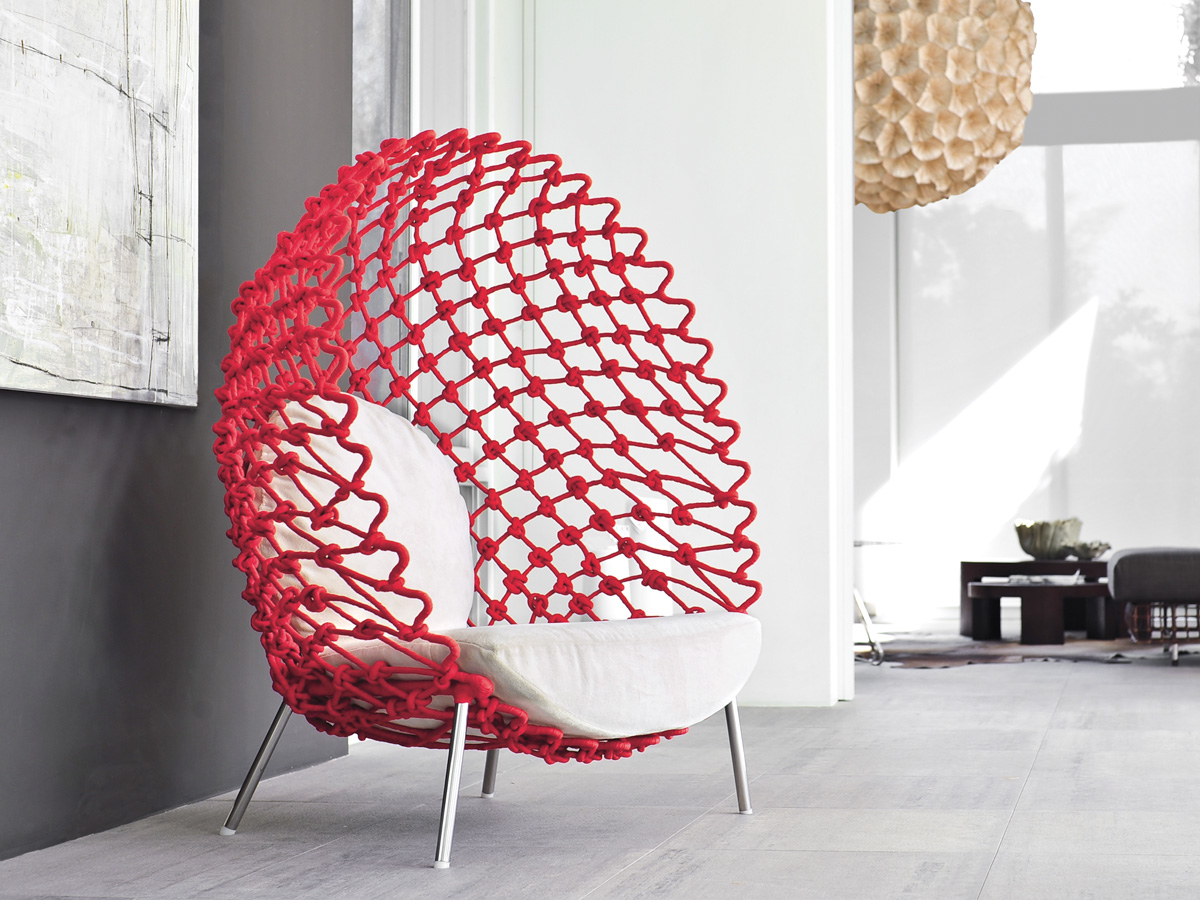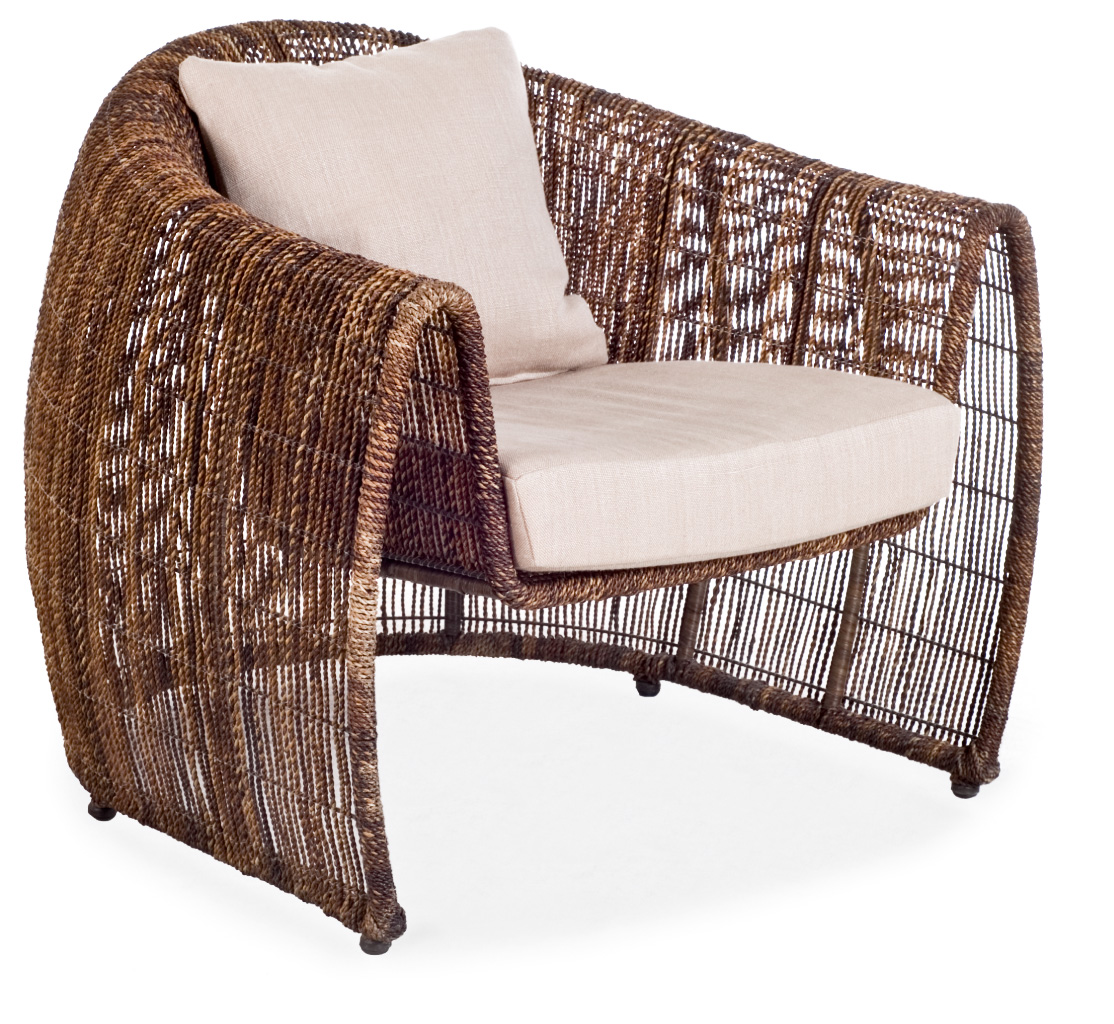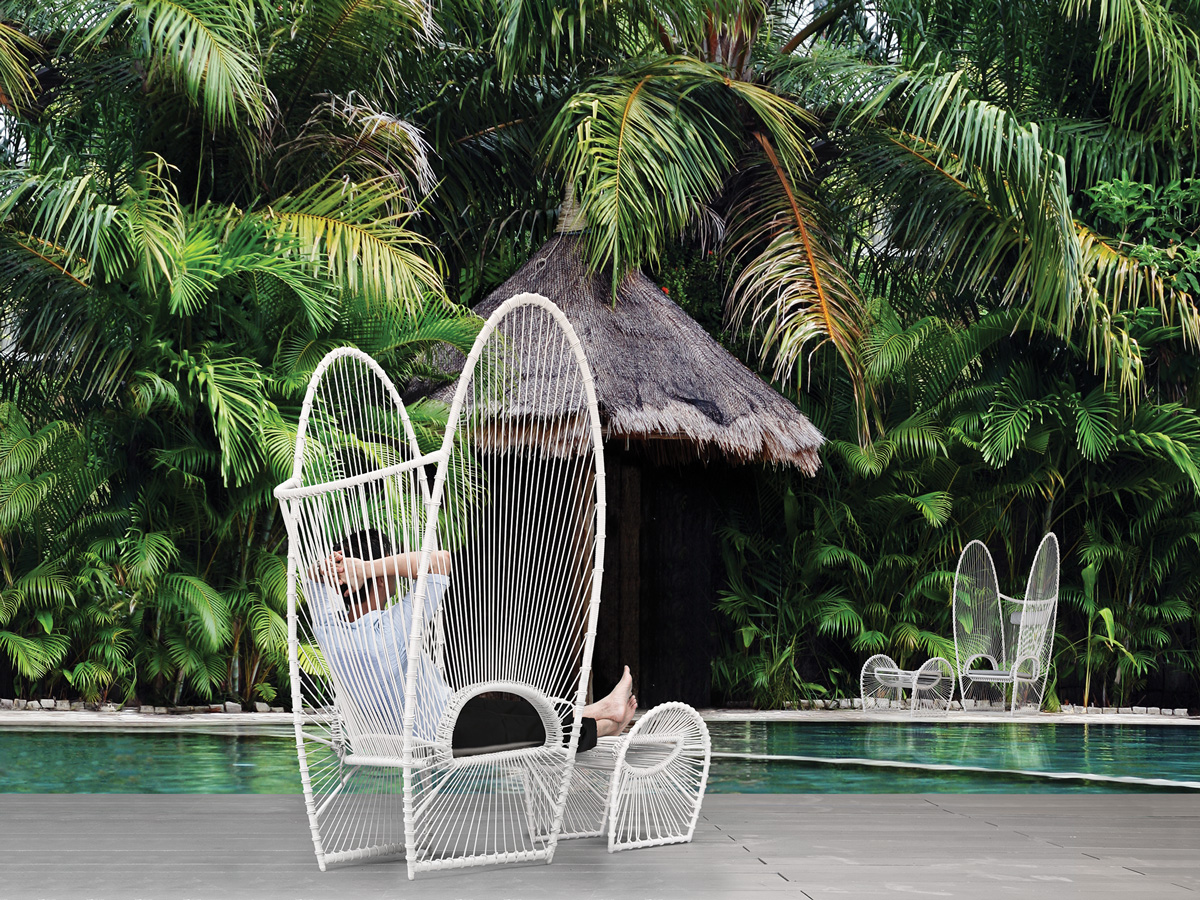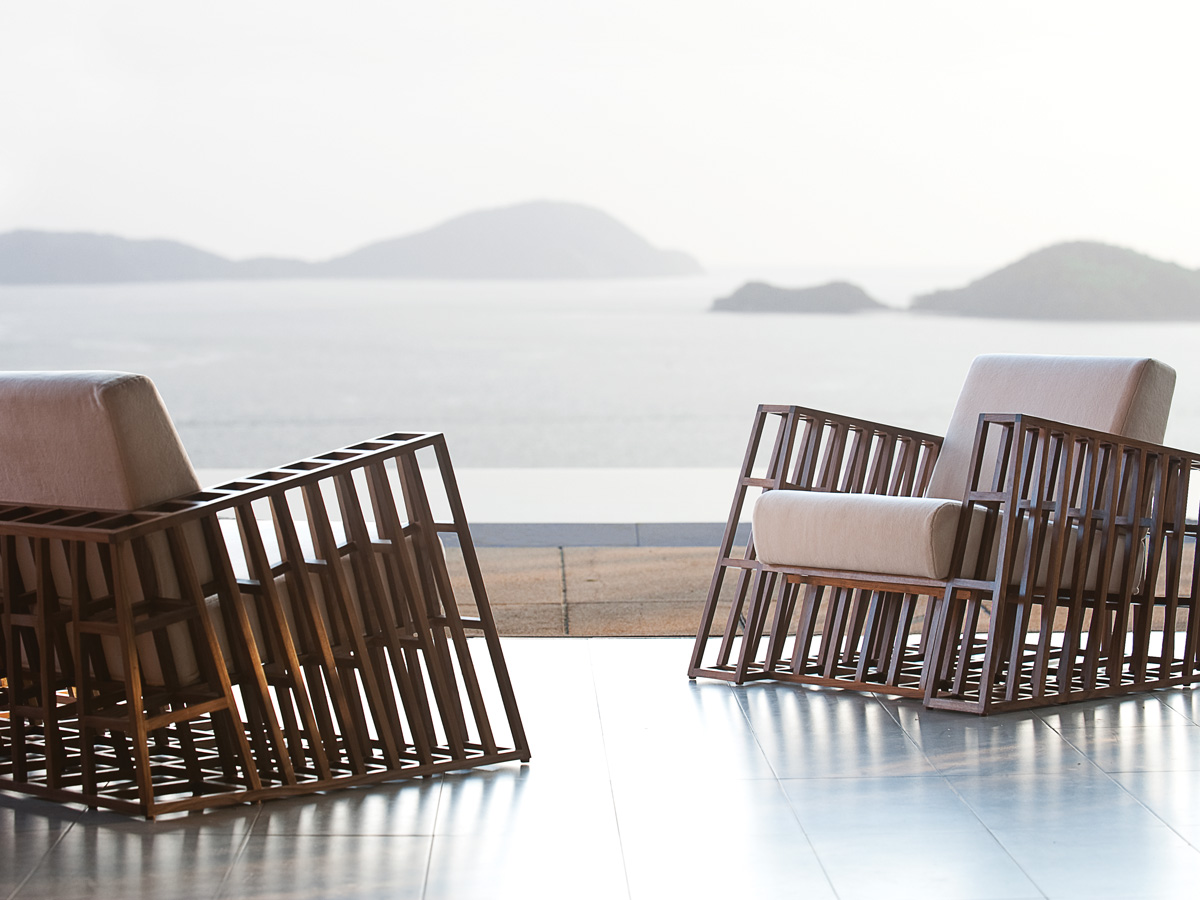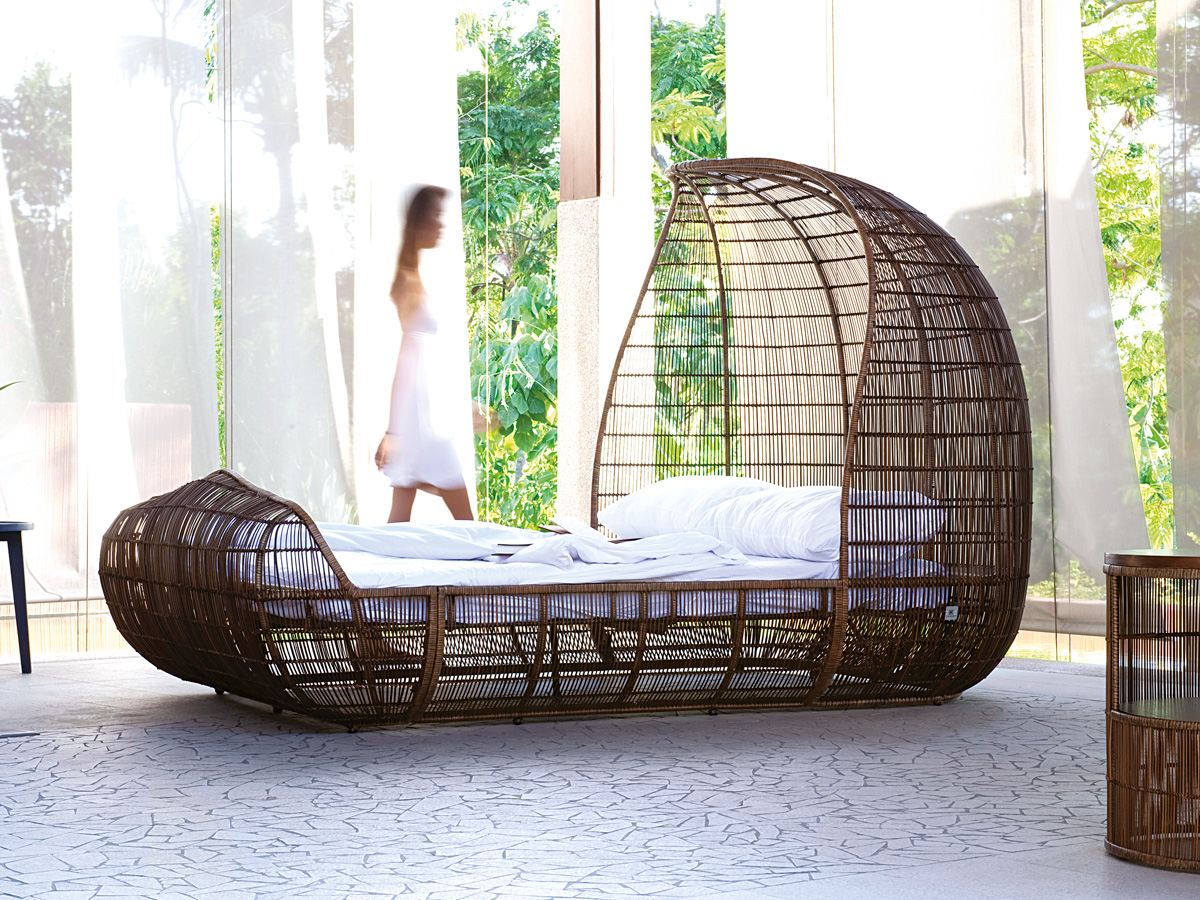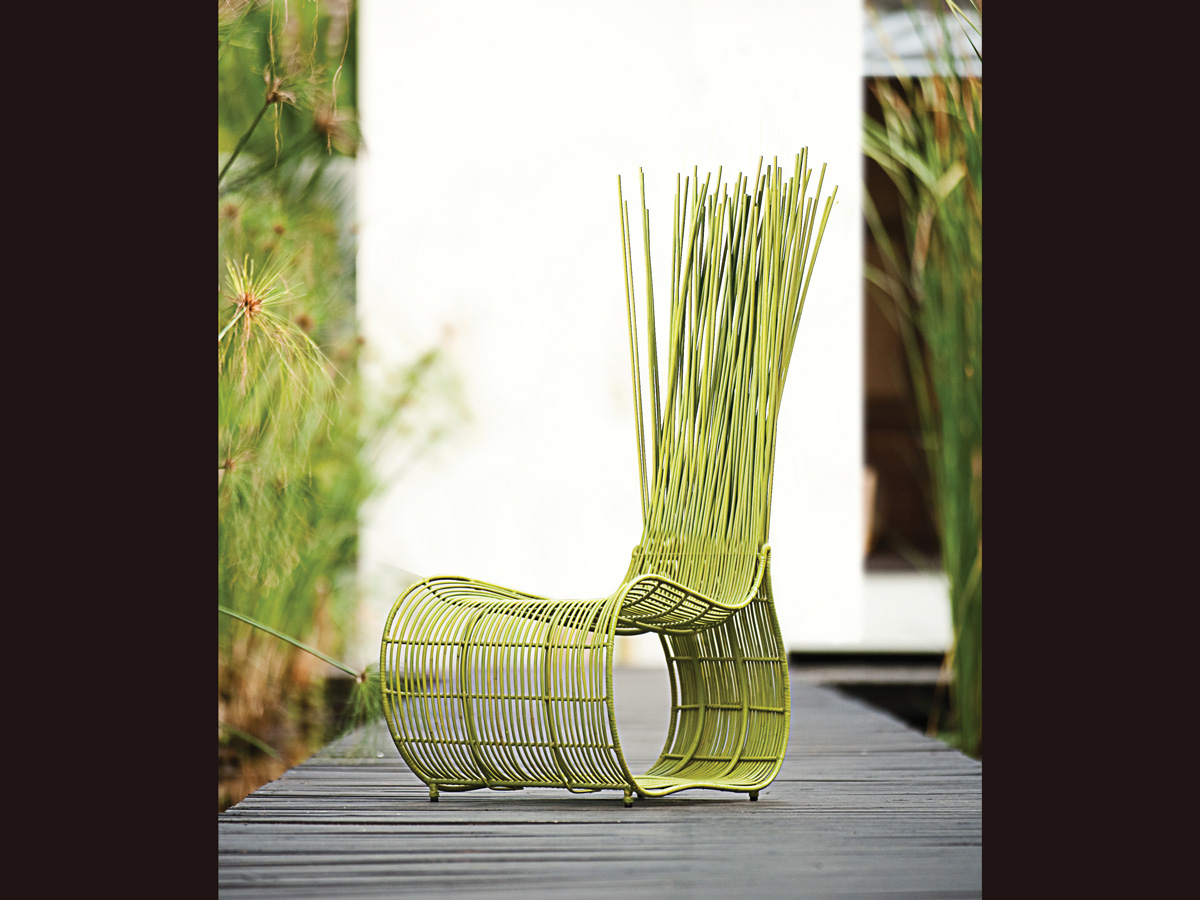 From knotted and looped seating to woven rattan beds, wavy poolside recliners and colourful creations that appear as giant comfortable blooms to sit in, Kenneth's designs are highly original works of art.
'My clients relive their childhood through my designs'
"I love it when I see my clients relive their childhood through my designs. When they sit unexpectedly on rattan poles and sink in, when they sit on a chair made to look like noodles or when they stare wide eyed at a gigantic flower in the living room, this sense of bewilderment and enchantment is what I love. For a moment we share a language that transcends time and space — this sense of joy that design can bring."
It's clear that Kenneth's initial delight in making his own pieces as a youngster has carried through in his creations. The designer maintains that child-like sense of creativity and wonder in what he does, and says he used to tell his design students the same: "Look at the world through the eyes of a child. It's a balance of paying attention and letting go.
"I get to occasionally experience this by seeing new places when I travel and being a witness to mother nature," he adds. "Nature's simplest forms ultimately lead to the
best designs."
Looking at things from different perspectives, child-like or not, is important to Kenneth
and he says this is where having a mentor can be useful. Aside from his mother, he names Filipino designer Budji Layug — who was the director of design collective Movement 8, which Kenneth was a part of — as a mentor. "Design is not an exact science," says Kenneth, "and that's why mentors are very important to help you see the world as objectively as possible, even through subjective eyes."
Rather than adhering to a design ethos or trying to crack a 'winning formula', something which the designer believes would only "kill creativity and innovation", Kenneth designs with a fluid approach according to his ever-evolving taste.
"I believe that design is a living process, forever transforming in response to the changing world," he says. "Because of that, I work hard to avoid getting boxed in
a personal aesthetic. Having a singular philosophy tends to lead to repetition."
This prolific luxury furniture designer says he is constantly inspired and always in search of new inspiration. "The mind somehow becomes more open to finding inspiration, and the ideas flow faster as a result," he says. "I find inspiration absolutely everywhere, from the most mundane things around me every day to the most exotic locales I'm privileged to visit."
Despite striving to continually evolve his incredible creations, it's touching to hear Kenneth point out the one common factor in all of his pieces: the primarily handmade production process. His pieces are made by hundreds of craftspeople in his native Cebu, with the skilled employees weaving, knotting and constructing his textural masterpieces. "The inspiration I find in the strength of the human spirit is one commonality that will never change," he says.
That I achieved a level of success in the global design community, which in turn has opened doors for my fellow South East Asian designers, is something that I feel very good about.
The designer is just as proud of creating a global brand in a little over a decade as he is of doing so while utilising the abundance of natural materials of the Philippines — fibres like rattan, bamboo and abaca — and the skilled craftsman of his country. "That I achieved a level of success in the global design community, which in turn has opened doors for my fellow South East Asian designers, is something that I feel very good about," he adds.
Having made his mark on the design industry, not only in the Philippines but across the globe, Kenneth admits it was something he set out to achieve, if only at first because he wanted a platform to show his work. "It was a decision based on artistic pride in the beginning rather than economic sense," he says. "In an industry not known to recognise manufacturers and their original designs, I wanted humble recognition for my creations."
Kenneth set out to stand out from the crowd, and has rightly been applauded for doing so. Rising to the challenge to make designs that are durable, unique, affordable, and sustainable is certainly no easy task yet responsible design, manufacture, and waste-management are the norm at Kenneth Cobonpue. The nature of handmade products means the energy consumption that goes hand-in-hand with machine production is
not an issue. The brand is conscious when it comes to its material use, too, with wood coming from certified mills and local green plantations; and the source of the local natural fibres being replanted, along with wood reforestation programs.
Engineering meets artistry
As an industrial designer, "half engineer and half artist", Kenneth cites balance as the key element to good design. He also says he is proud of each of his pieces, and doesn't play favourites. "Each design goes through a birthing process that is sometimes painful and joyful. The work is very personal to me," he says. "There are design triumphs that are difficult to replicate, like the simplicity of the Yoda chair, the Wave table's sculptural grace, the intricacy of La Luna's weave, and even the timelessness of Morals & Malice (formerly Z Bar)."
"Designing for me is a discipline and an act of concentration trying to come up with a solution," says Kenneth when asked if he ever suffers creative block. "Sometimes I spend an hour at the desk and nothing comes, and I have to try again tomorrow. It's a discipline not unlike a sport — you have to keep on doing it to get good at it."
As for the future of Kenneth Cobonpue, we can expect to see plenty more fantastic sustainable creations that awaken the child within.  "A bamboo bicycle; an electric car; a condominium; new lighting and accessories; stores; installations; and more exhibitions," says Kenneth when considering the year ahead. "We are continuously reinventing, developing new designs with new sustainable materials and production techniques."