Vivid Living: French Bull
A poet of pattern and an artist with the soul of a prankster, Jackie Shapiro lets her creative spirit loose through her design brand, French Bull.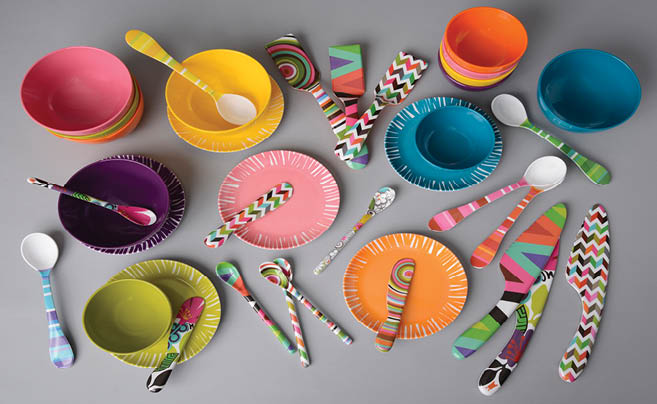 Even if you're unfamiliar with the name, chances are you've come across the vibrant colours and quirky shapes that make up a French Bull design. Its patterns have graced everything from kitchen utensils and serving dishes to wallpaper and bedroom slippers. Bold, bright, and brilliant, French Bull is all about harmonious contrast and standing out from the crowd.
Jackie Shapiro is the woman behind the colourful madness. The former fashion designer founded French Bull after making a name for herself in the wonderful world of patterns, selling her ideas to a variety of manufacturers. Her funky designs had already appeared on handbags, wrapping paper, bedding, swimwear, pyjamas, T-shirts, stationery, and active wear, so she thought why not take a shot on herself and go out on her own. At the 2002 New York International Gift Show, she launched her first tabletop collection. From then on, people started to sit up and take notice.
The French Bull name takes inspiration from the frisky nature, compact stature, and mighty will of the offbeat French bulldog. Described as a jolie laide creature—the French term for 'beautiful ugly'—Jackie says it illustrates the brand's solid foundation, heady profile, and alert bat-like ears that navigate it through any challenge.
She explains that her design ethos is all about the yin and yang. "I love to have contrasting design elements work in harmony, and to make the whole greater than the assembled parts," she says. "The designs should also have an upbeat vibe.
"I am inspired by European Renaissance art, baroque castles, the fantastic music posters of Hapshash and the Coloured Coat, the typographic fabulousness of artist Sister Corita Kent, and all packaging with 'pow', like for detergent or kids cereal.
"I am inspired by every place I go and have been. The sari shops of Bombay are fantastic for colour and pattern; I'm a sucker for anything that hints at glam rock; I love the fantastical flowers of Brazilian artist Beatriz Milhazes, the youth-pop graphics of Japan, the opulence of the Italian Renaissance, and memories of a long-lost edginess in my very own New York City. All these images lay deep in my mind's eye and are themes I often go back to."
Jackie's creative process involves a number of elements. She looks at fashion, the streets, and at what the 'cool kids' are doing for inspiration. Her mind is always ticking with new ideas. Using her wild imagination, she has an uncanny ability to see a blank space and think of it as an opportunity—a white canvas begging her to add a jovial touch.
You can download the full article below…