All aboard in Ecuador
Ecuador's railway in the sky chugs into colourful markets, passes stunning scenery, and hurtles down the infamous Devil's Nose.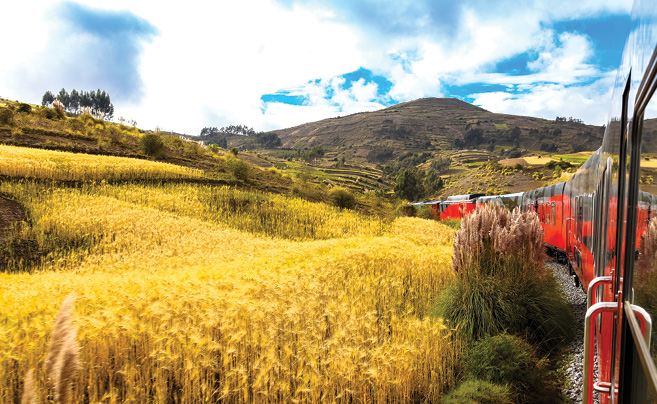 All eyes are on Baltazar Ushca as he tells of his life's work chipping huge chunks of ice from Ecuador's mighty Chimborazo volcano, loading it on to his trusty mules and trudging for hours back to his hometown to sell it at the local market. It's been a family tradition — both his grandparents and parents were ice collectors known as hieleros — and Baltazar, 71, has literally carved his way into Ecuadorean history.
His daughter, Carmen, who says she's definitely not continuing the family tradition, translates for us as we stand in the country's highest train station at Urbina, in the shadow of the snow-topped Chimborazo. She says her father is very proud of his work transporting the hefty twenty-kilogram chunks of glacial ice around, but even prouder that his mother made the treacherous journey barefoot.
Known as Ecuador's last ice collector, he has been to New York to talk about his feats and is even the star of a YouTube clip, but these days he just enjoys talking to train passengers about his adventures. Flashing a grin, he offers us shards of the sacred ice and talks of how indigenous Quechua people believe it has healing powers. It is just one of the many highlights of a four-day, three-night, journey travelling on Ecuador's smartest train, the Tren Crucero — train cruise — that weaves through the lofty Andes between the cities of Quito in the north and Guayaquil down south.
Avenue of Volcanoes
­­
We follow the Avenue of Volcanoes — there are sixty-one in Ecuador — passing the country's highest peaks with several coach excursions along the way to see local attractions, enjoy lunch at charming haciendas, and stay overnight at
varied accommodation.
The train caters for fifty-four passengers who spread out over two dining cars, a lounge with comfy couches and a bar, and an open-air observation deck from which to watch the world go by.
Travel is stylish and slow — it takes about four days to cover 500 kilometres, travelling at thirty kilometres an hour, but the rewards are many as we view an ever-changing snapshot of the country and its people. The landscape alternates from bustling cities to small towns and wide open farmlands where llamas roam amid scenery that leaves you in awe of nature's finery.
We board at Quito's Chimbacalle Station and first stop is Cotopaxi National Park where
we view the majestic Cotopaxi volcano and walk around Limpiopungo, a glacial lake, watching for the famous Andean condor. We huff and puff as we adapt to the high altitude which creeps up and leaves me feeling like I have scaled Cotopaxi rather than viewing it from afar.
Morning tea is served back on the train where we are attended by staff who are proud of their country and the railway system that was resurrected in 2010 at a cost of US$280 million.
Train love
The train remains a novelty for locals and as we pass by, they drop what they are doing to wave, school children cheer, women take a break from hanging out the washing, and teenagers capture it all on their mobile phones. We are accompanied by several dark uniformed motorcyclists who ride ahead to check the train crossings are clear, and hold up the local traffic as we pass. Highlights of the trip include a stop at the town of Guamote on market day, which is one of the most authentic markets in Ecuador.
Market day
We discover a riot of colour with women wearing scarlet, fuchsia, red, and blue embroidered ponchos, full skirts with lace-trimmed petticoats peeping out from beneath them and felt hats perched perkily on their heads. They bargain for fresh produce, homewares, soap, fruit, and livestock and it's a noisy affair.
Lunch is made from fresh market produce and cooked by train staff, but it's the vibrant market that takes centre stage here and it's hard to resist the colourful embroidered bags, fluffy alpaca toys, and brightly coloured rugs and tableware for sale. There's plenty of action as we watch a small feisty woman pull a stubborn lamb along on a rope and another herding a fat sow while carrying squealing piglets under each arm.
"People come from the mountains to trade and barter and you can stand for hours watching what goes on," says our guide who  describes the indigenous Quechua people as "Japanese in ponchos", referring to how polite they are.
Devil's trip
Another highlight, especially for train buffs, is the hair-raising descent down the infamous Devil's Nose, through a series of switchbacks between Alausi and Bucay that takes about fifteen minutes. The train does zigzag manoeuvres so it can descend 200 metres of altitude while travelling over three kilometres of rail. Completed in 1902 by a workforce of 4,000 Jamaicans, 2,000 perished on the project that's still considered the most dangerous railway in the world.
"Marvellous, marvellous," says David, a train buff from England, who appreciates the finer details of the engineering feat. "I've come a long way to see this and it's all worth it." David is a happy man again when the train is hitched to a steam locomotive for the homeward run into Guayaquil. Throughout the trip, locomotives are changed to suit the track.
Time out
We enjoy lunch at two stunning properties including Hacienda La Compania de Jesus at Cayambe, set on a working rose farm where thousands of blooms are grown and exported.
The house is filled with antiques and magnificent roses and we dine on a three-course meal and then tour the world famous rose farm.
Next day we visit the elegant Hacienda La Danesa, a charming farmhouse owned by the Olsen family who run a traditional cacao farm as well as accommodation and activities, including horseriding and water sports.
We wander around the manicured garden, dine on the best steak we have had in Ecuador and sip pisco sours while Nils Olsen tells us about his family business.
At night we stay in hotels and haciendas — the standout being the quirky, rambling Hosteria La Andaluza Hacienda Chuquipogia built 243 years ago, that sits in the shadow of the Chimborazo volcano. And no, you aren't seeing things we're told — there really are snow white rabbits that hop around the rose-petal-filled fountain.
Ecuadorian farewells
Back on board, as we near our final destination, Guayaquil. We toast life on the railway with a pisco sour as a traditional Ecuadorian band plays, and we dance as if
no one is watching.
Except they are.
Locals clap and cheer as they watch the train pull in and we unload bags bulging with market bargains and yes, an Ecuadorian hat and poncho — just impossible to resist.