Edge of the world: Kangaroo Island
Wildly peaceful may seem like a contradiction in terms, but on South Australia's Kangaroo Island, the wild and the peace unite to offer an ultimate off-the-grid getaway.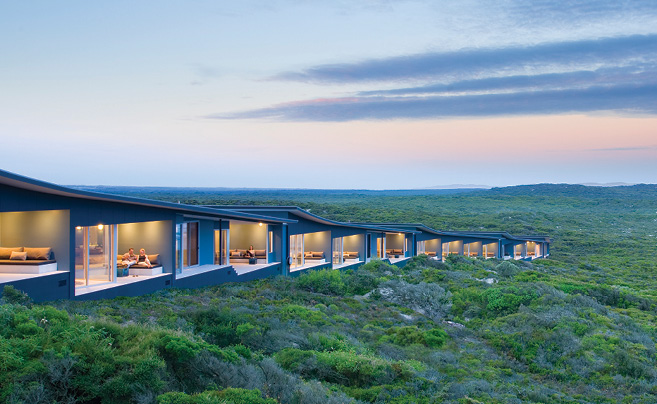 By the side of the road, half an hour's drive from Kangaroo Island's Kingscote airport, there's a motley crew of mailboxes near the road heading to Vivonne Bay. Ask any local or driver and they'll point you in the right direction, as its one of the island's more eccentric landmarks. The reason you should give the ramshackle mailboxes some of your precious time — bar fridges, oil drums, an 80s microwave oven, and little sheds on stilts among many others — is because one of them also has a sign for passersby that sums up the pride that the locals have for their home. The note, in bright yellow paint on a neat piece of metal painted a deep green, reads: "If you live on Kangaroo Island, you're better off than 99.9 per cent of the population."
Setting off down the road to Southern Ocean Lodge, with the sun setting, and warm rays of light splintering through the gum trees and eucalypts, we're anticipating some of the many things that so many people come to Kangaroo Island in search of: wild landscapes and just as woolly seas, kangaroos and wallabies a-plenty, koalas, seal lions, an abundance of fresh, lovingly made produce, huge expanses of the great outdoors with hardly anyone to crowd it, peace of mind, and a lack of contact with the rest of the world. That feeling of remoteness had been with us since the moment our 32-seater Rex plane had touched down at Kingscote, when we both quickly discovered that neither of us had any mobile reception at all. Phones off, we both sat back and watched the sun set around us as Southern Ocean Lodge's driver expertly navigated the route to our secluded destination.
En route, our driver shares some funny local stories and some of the island's history, including the fact that Kangaroo Island was bestowed its name when early explorer Captain Matthew Flinders and a hungry crew discovered it in 1802. They found no inhabitants of the human kind, but Flinders recorded the joy of finding something else in his diary: "The ship's company was employed this afternoon in the skinning and cleaning of kangaroos. They stewed half a hundredweight of heads, forequarters and tails down into soup for dinner … and as much steak, moreover to both officers and men as they could consume by day and night. In gratitude for so seasonable supply, I named this south land, Kangaroo Island."
Despite its name, the majority of people who visit Kangaroo Island are there to see koalas in their natural habitat, as there are tens of thousands of them living on the 4,405-square-metre island.
In 1920, eighteen koalas were taken across the sea to Kangaroo Island as a precaution to prevent their extinction. Today, their numbers are completely out of control, and thousands of the animals have to be de-sexed every year, with some relocated to control the population that is literally eating itself out of its home. Their vast numbers however, mean that it's easy to see them in the wild, and the fact that they have thrived is due to there being such a lack of introduced pests on the island — it really is one of the world's last unspoiled wilderness regions. It also means that Kangaroo Island is home to some of the Australia's more unique and photogenic creatures, such as echidnas, sea lions, fur seals, eagles, and even leafy sea dragons. There's a very good chance you'll see some or even all of them in just a few days.
Some people come to the island to be right amongst the wilderness, opting to stay in the many small lodges, hotels, caravan parks and rental homes on the island, and others come for the fine food, wine, and luxurious offerings of Southern Ocean Lodge, which has recently been named the fourth best hotel in the world in the US's Travel + Leisure magazine's 2016 'World's Best Awards', and as the best hotel in Australia. Stepping through the lodge's grand entrance at the end of a timber walkway surrounded by low-lying native bush, and taking in the 1,548-square-metre architectural spectacle that splays like the wing of a giant bird over the island's south west coast, there's no wondering why.
Designed by award-winning Adelaide firm, Max Pritchard Architect, from dawn until dusk and throughout the night, the building is like a reflective mood ring, absorbing the actual world and inherent energy in it. And everything — from the pale timber bespoke Khai Liew lamps and furniture, to the leaf collages created by local designer Janine Mackintosh, and the floor-to-ceiling glass windows that frame the unforgettable views — was chosen to create a relaxing oasis where nature is always centre-stage, and relaxation is the aim of the game.
The granite-grey hues of the rooftops, the pale and bright blues and natural fibres in the decor, the natural stone, glass, and locally-sourced wooden floorboards all come together in the architectural masterpiece to reflect the surrounding natural elements — it's a finely orchestrated success story of man merging with nature, and there is so much to watch from the cliff-tops: waves lashing against the coast's many rugged escarpments, rainbows coming out after storms, rain sweeping over the tough-as-nails lime green and deep brown scrub, and sunrises and sunsets that take your breath away.
Upon arrival (once you've picked your jaw off the floor) there's no better way to absorb whatever mood the lodge is in, than with canapés and champagne, seated in leather lounges facing the ocean and cliff-tops, while you sign in. The delightful lodge staff then lose no time settling everyone in and setting the scene for what is to come — and that's a continual, around-the-clock offering of fine food and wine on a par with the best restaurants in Australia. Match that with impeccable service, and at first it seems a shame to leave the lodge at all. The manager assures us that many choose not to.
However, after a sampling of Kangaroo Island's many offerings put together courtesy of Mother Nature the the passing of time, its easy to slip into a typical Southern Ocean Lodge experience: late breakfasts, followed by a leisurely activity, a three-course lunch with perfectly-paired fine wines, perhaps another activity, canapés and après activity drinks, followed by dinner and dessert, paired with more of those fine wines. Guests can help themselves to most of the wines in the cellar, with other ultra top-shelf tipples (think Henschke Hill of Grace, Penfolds Grange, and the best Bordeaux) available upon request.
For guests looking for activities that are more challenging and strenuous, mountain biking, trekking, diving, sailing, and a host of other great things to do are on offer. And for those who want to indulge in all of the island's bountiful produce on a week-long foodie holiday — the Kangaroo Island Food Safari is held every August and is usually headed up by the legendary Maggie Beer and another celebrity chef.
We choose to take in three of Kangaroo Island's most iconic activities during our three-day stay, including visiting a sea lion colony in Seal Bay, taking in the Remarkable Rocks, and venturing into the wonderful world of Admirals Arch.
At Seal Bay Conservation Park, there are no cages or enclosures — it's a truly wild colony of sea lions, and if you time things right, you could be there after naptime, when the sea lion pups are loping about with cheeky cartoon-like beauty. A winding wooden walkway takes visitors through the scrubland that the sea lions call home, and out over the beach, where white sand, blue skies, and unspoiled vistas sprawl in every direction, it's a real check-in with reality. Life has not changed here for these creatures for thousands of years. Their home is as it has always been, albeit with more people taking photos and smiling at their antics. There are sleeping sea lions everywhere, crashed out on the beach, in the dunes, and on the grass, after big swims and hunts in the ocean.
There are plenty of warnings about not getting too close to the sea lions (a protective bull can weigh up to 350 kilograms), and the guides are very strict about protecting the natural habitat.
After spending an afternoon with the sea lions, we visit one of the island's most beautiful landmarks: the Remarkable Rocks in Flinders Chase National Park. A stunning ensemble of granite boulders atop a granite dome, these natural sculptures are thought to have been formed during the post-Cambrian period, around 500 million years ago. The unusually beautiful shapes, and vibrant orange and white colouring, were caused by rain penetrating the upper layer of the rock, decomposing it into separate, boulders. The wind, waves, and lichen then worked their wonders — erosion leaving a gathering of boulders in a gorgeous display of various vivid natural sculptures. It's a sight like nothing else in the world, and one of the most photographed things in South Australia.
And just when you think Mother Nature couldn't possibly indulge one remote island so much by giving it even more surreal natural wonders, there's Admirals Arch. It's a partly-underground world of ancient caves where the wind, rain, and waves have transformed the cave system into a natural bridge, and stalactites grip the top of the arch like natural chandeliers. The spectacle has huge geological significance and has been designated as a geological monument, attracting more than 180,000 visitors a year.
And to add another layer of entertainment, New Zealand fur seals love this rocky playground with many a sheltered nook, and there are literally hundreds of them cavorting about, looking as though they are posing for photos as they clamber up their well-worn paths and slip and slide about on the rocky escarpments. It's easy to spend hours simply watching these creatures enjoy their protected island.
We arrive back from another nature walk and indulge in a tapas-style Sunday lunch where the tables are practically bowing under the weight of sensational local offerings — cheese, oysters, meats, breads, and inventive salads galore — and then raise a glass of champagne to our fellow travellers and the view. As we do, a sun shower unexpectedly sweeps across the ocean before us, and within moments, the sky is clear once more, a rainbow arching across the island. Then we had to do one of the hardest things we've ever done — pick ourselves up and leave Southern Ocean Lodge.
On the ride back to the airport in the lodge's mini bus, dodging kangaroos and keeping our eyes peeled for echidnas and koalas, a fellow passenger lets the driver know that they haven't seen the legendary row of arty mailboxes near Vivonne Bay, so he soon pulls over, and we all chuckle at the assemblage of random recycled objects used to connect the locals with the outside world. Heading back off down the road, surrounded by a tunnel of gum trees and cruising along the edge of Australia, I suddenly understand the conviction of the island's residents — they really are much better off than so many of us on this planet, living on this unspoiled patch of wildly peaceful paradise.