Flying high: Indoor skydiving
Nothing can prepare you for the rush that flying gives you.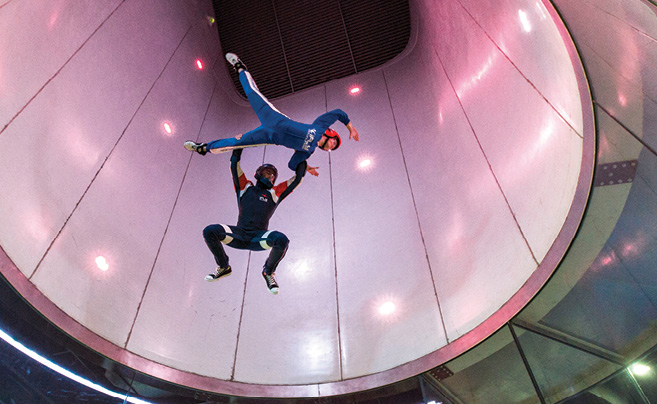 Watching the feet of those before you leave the ground at iFLY Indoor Skydiving doesn't prepare you for achieving something that people have spent centuries and billions of dollars trying to perfect — flight.
At iFLY, take off and experience the joy of flying
After being kitted out in a skydiving suit and taught the basic moves — body straight, hands semi-clawed, legs gently curved, chin up, mouth shut — I step into the giant glass vertical wind tunnel, housing fans capable of creating 250 kilometre-per-hour wind speeds. It's enough to blow anyone away, literally. And once you're flying, it's also hard not to maniacally grin, although that means a smile being awkwardly plastered across your face while you are blown about, ungracefully to start with, in the wind currents.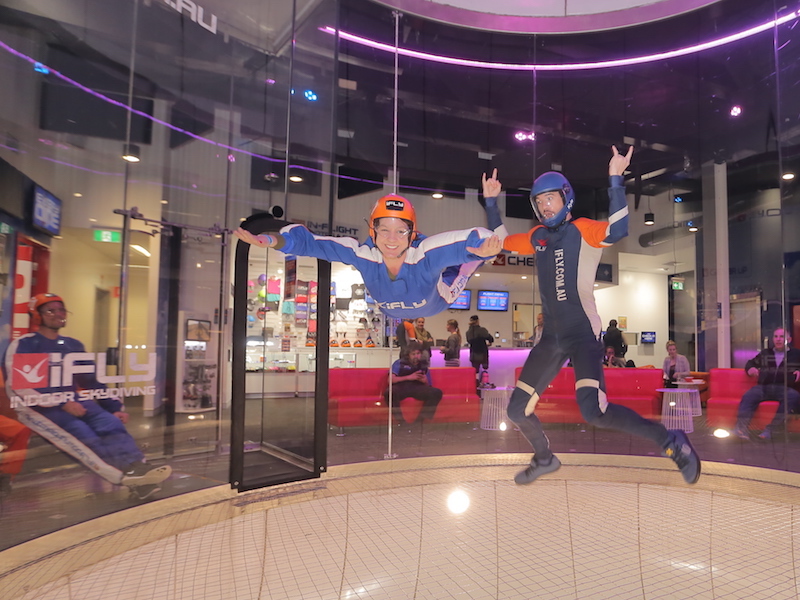 It might seem like a miracle while you're up there, but flying at iFLY is a meticulously calculated feat that military and professional skydivers have been familiar with for decades. It started out as training for flying, sans the aircraft, and has gradually been developed so that now, the average person with no experience whatsoever, can take off and experience the joy of flying.
Just like skydiving, there's a massive adrenaline rush when you take off, followed by a feeling that nothing on Earth really matters in those moments when you've managed to defy gravity — except that you are as close as you'll ever be to being a bird. Which makes it an ideal corporate team-building exercise for those who are burdened by stress, anxiety, and concerns that are the too-often inherent elements of corporate life.
Establishing Indoor Skydive Australia Group was a turbulent ride
After being flipped about in the wind tunnel and doing some crazy circular loops with an instructor, I caught up with Wayne Jones, CEO of Indoor Skydive Australia Group, and former Special Forces officer.
"During my career in the military, simulation training was integral to maintaining the skillsets required to be at the top of your game," he explains. "Parachute training was always one of those skills that was hard to remain current for the Australian Military, as it is often very expensive and dangerous training that needs to be conducted regularly. So now wind tunnels are used to simulate the freefall stage by overseas military groups to create a controlled environment where soldiers can practice emergency drills, test new equipment, and conduct initial training."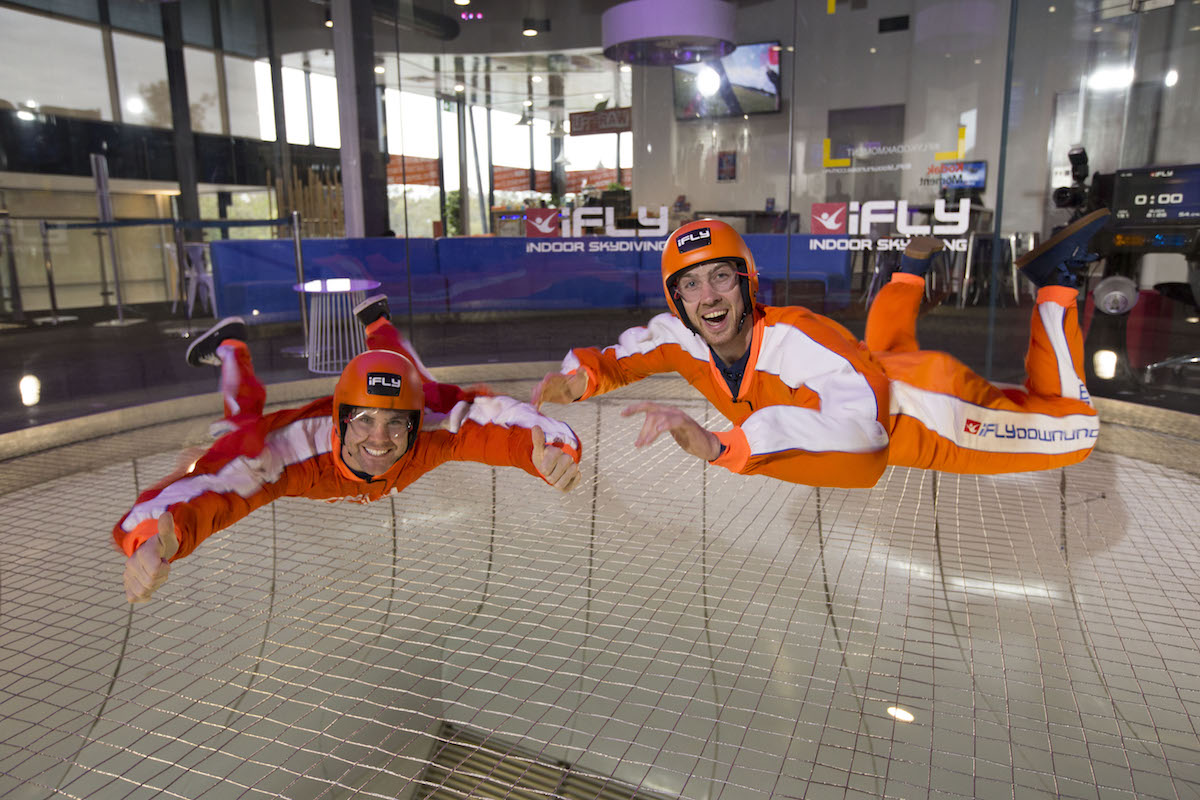 Wayne says as well as the military, there's a 3,000-strong skydiving community in Australia and a booming tandem skydiving industry with more than 160,000 tourists taking the plunge from planes every year. "These skydivers and adventure tourists use wind tunnels around the world regularly to train in new techniques and tricks. They're having a great time in a safe environment, without having to worry about weather conditions, planes, and the short amount of time available between jumping from the plane until having to open your parachute!"
In 2010, Wayne and his mate Daniel Hogen (also from the Special Forces and now the Indoor Skydive Australia Group COO) started planning how they were going to bring this to Australia. "Setting up the business was a very turbulent ride, but it worked because we surrounded ourselves with a good team, we had supportive mentors, a very flexible plan with multiple fall-back plans, and we committed ourselves 100 per cent to the end goal. Daniel and I risked all of our savings, reputation and quit our stable jobs in the military to move across Australia and make it happen."
A real team-bonding atmosphere
"Our customer experience is one of the most important things to us as a company. Our customer service personnel are highly trained and love their jobs — and having a wind tunnel at the work place is great for moral. Retention of staff is paramount to the growth of any company, having opportunities to grow with the company, being able to move up through the ranks with clear career paths, and to have goals that are achievable."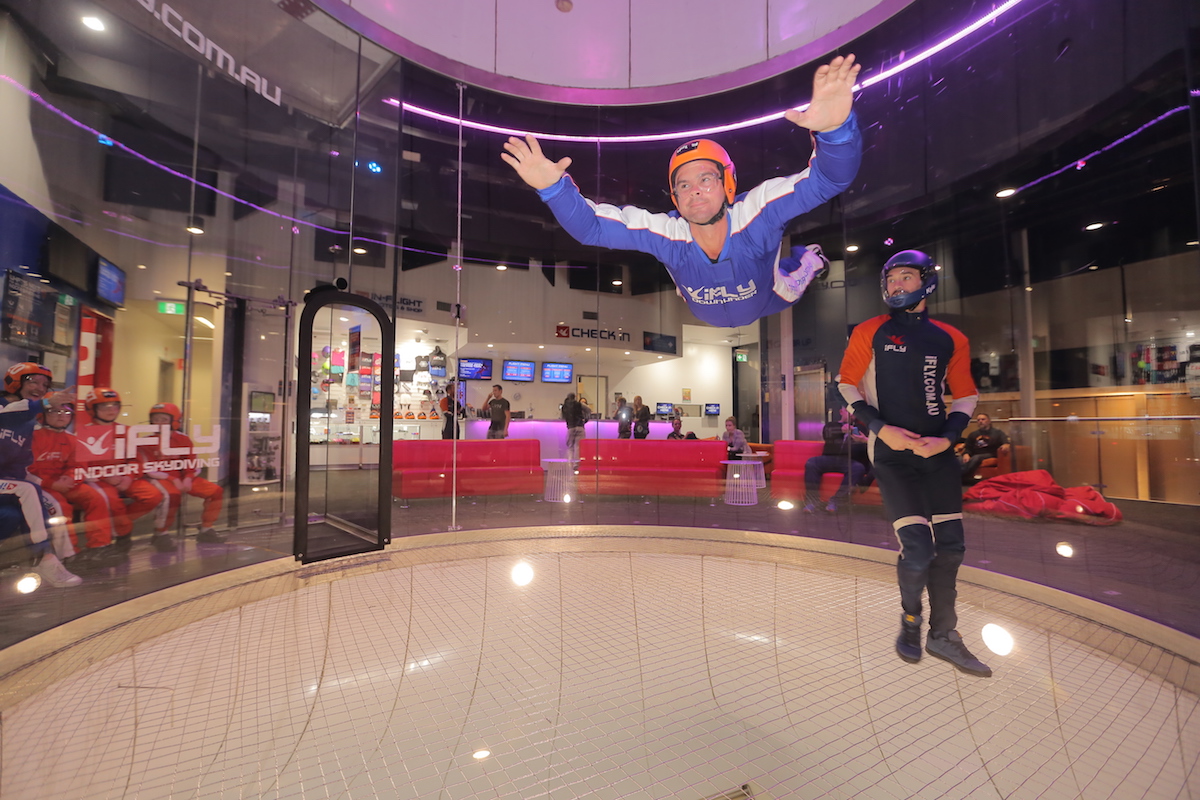 Today iFLY attracts all sorts of people, from kids as young as three, to their oldest flyer, at 93, and corporate events are extremely popular. "It's a great experience for corporates and businesses to reward their employees," he says. "And it creates a real team bonding atmosphere as everyone is thrown into a totally new experience — indoor skydiving!"
For more info, head to downunder.iflyworld.com.