Grand Dame: InterContinental Sydney
Historic, sophisticated, and luxurious are words synonymous with InterContinental Sydney. However, after an experience at the hotel's 117 dining, and a tipple on the thirty-first floor descriptors such as progressive, inspiring, and gastronomic might also spring to mind.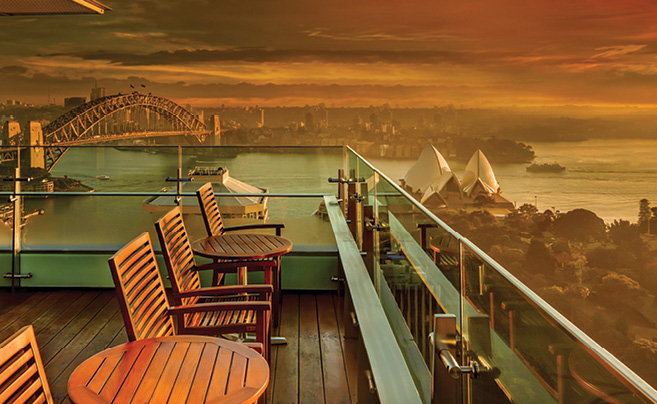 There are great views, and then there are sensational views that extract an unexpected sigh as you relax and drink them in. Club InterContinental, on level thirty-one of InterContinental Sydney, has views of the latter variety. The lounge and bar has the only wrap-around deck in a five-star hotel in Sydney, and uninterrupted views taking in the Harbour Bridge, Royal Botanic Gardens, Sydney Opera House, and Circular Quay, making it a surprisingly tranquil spot to unwind.
If work does continue into the evening, guests have access to the latest technology, and the Club can be a private retreat for conducting business. And then there's the Supper Club to look forward to, with the city lit up, sprawled below in all of her glittering glory. It's all happening from 9pm until late, and there's no skimping here — with twenty-seven champagnes ranging from Taittinger to Ruinart on offer, alongside cocktails whipped up by a talented mixologist. Club guests also enjoy exclusive benefits, such as private check-in and check-out, deluxe buffet breakfasts, all-day light refreshments, twilight canapés and beverages, wi-fi for up to five devices, shower facilities for early arrivals, and the pressing of two clothing items per stay.
Anyone familiar with the InterContinental group's signature style will already know that the special service from staff and the endless elements of luxury flow on to all of the rooms and into every public space in the grand, dome-topped, nineteenth-century building. The lounge area next to the lobby for instance — with its four-storey high domed ceiling, layers of sandstone and brick arches and balconies, and plush circular booth seating set upon large expanses of white marbled floors, encapsulates the elegant, modern style that the hotel chain is globally renowned for.
There are 509 rooms in the hotel, including twenty-eight high-end suites designed to merge business, with pleasure. If you're lucky enough to be staying overnight for New Years Eve, the Harbour Bridge View Rooms, Opera House View Rooms, and the Harbour Executive Suite are the ones to lock in early, as they all have superb views of the fireworks, and the Deluxe Eastern Harbour View Rooms have stunning views over the Royal Botanical Gardens.
All of these luxurious suites have large comfortable daybeds within the expansive windows for taking in the beautiful spectacle of Sydney all year 'round.
Raising the luxury stakes is the Premium Suite Collection, which includes the Governor Suite, with a separate lounge, and dining room and marble bathroom, and the State Suite — a luxuriously appointed 150-square-metre space with a lounge, dining room to seat eight, gallery kitchen, study, spacious marble bathroom with spa, walk-in wardrobe, grand piano and a guest bathroom. The Australia Suite is the supreme pinnacle of the hotel's offering, floating twenty-nine floors above Sydney Harbour. It has a private terrace to enjoy the view and the fireworks on New Years Eve, and is one of the most coveted suites in the city. It has a private lounge with grand piano, dining room, appointed kitchen, study, master bedroom, over-sized marble bathroom with a rain shower and private spa bath, with views, of course.
An onsite fine dining restaurant is often one of the reasons behind many a busy person's hotel choice, and InterContinental Sydney always exceeds guests' expectations with 117 dining, which is the 2016 winner of 'Best Luxury Hotel Restaurant' in the World Luxury Restaurant Awards. Indulge in 'A Taste of Truffle with 117 dining' degustation menu, and there are no surprises as to why the culinary accolade was bestowed.
The menu kicks off with some sake that has a fungi taste to it — surprisingly delicious, matched with butternut pumpkin, with grated black truffle, maple syrup, manchego cheese, and rye. It then smoothly transitions to grilled eryngii with mushroom truffle dashi, housemade tofu, turnip, and shaved truffle. A biltong tartare then steals the show, served with radish, truffle aioli, brioche, and fresh truffle, and the Spatchcock 2 Ways comes with a shitake truffle puree, delectable burnt apple offering, Swiss chard, and grated truffle. A Tajima top sirloin follows, which is a sticky Wagyu cheek, with parsnip and sliced truffle. The experience wraps up with 'truffle hunting' in a wickedly tasty serving of dark chocolate sable with vanilla ice cream, quince, and black truffle. The courses are matched with a range of wonderful wines, and the staff are as refined and professional as they are entertaining and attentive. They mirror the sophistication that this grand dame is renowned for.