Grape expectations: Lake Geneva
A drive along Lake Geneva provides alpine views and historic sights, but also the chance to try some of Switzerland's unexpectedly good wines.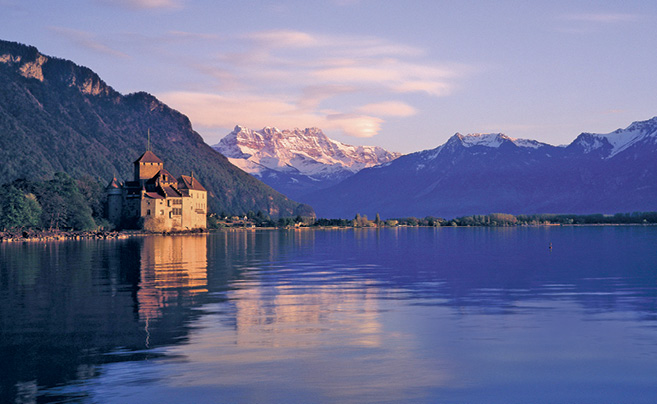 The northern shore of Lake Geneva stretches for just over 100 kilometres. If you're racing through, you could zip in an hour from Geneva at one end to Montreux almost at the other. Although you might appreciate the Swiss engineering of the multi-tunnelled motorway, you'll miss out on much else. This is one of those squeezed-in corners of Europe dense with history, two cities, agreeable towns, and castles.
Even better, regular cellar doors sit among terraced vineyards: just the place to unwind and sample Swiss wines.
Take your foot off the accelerator and hit the byways. The French Alps are flamboyant on the horizon, the lake scattered with yachts, and villages provide a kaleidoscope of flowerboxes and fluttering flags. You'll get your first taste of the landscape on the medieval ramparts at Nyon, about 20 kilometres out of Geneva: they provide a full-on view of Mont Blanc directly across the lake. Below the ramparts are flower-packed parks and a swan-paddled harbour. When the Swiss do prettiness, it's never in half measure.
Nyon is scattered with Roman knick-knacks, and it's likely the Romans planted Lake Geneva's first vines. Vineyards start just beyond Nyon, and are full of fruity Chasselas grapes for white wine, and Gamay and Pinot Noir for red. Oenophiles can chase down unusual varieties such as Garanoir, Gamaret, and Plant Robert. Take a meandering village route through the vines rather than sticking to the main lakeshore road. The lake's flanks rise gently to offer views towards the Alps in one direction and the Jura Mountains in the other. Walking paths indicated by yellow signs provide lovely walks, notably linking Lully, Begnins, and Féchy.