Overtly Ovolo: Ovolo Woolloomooloo
Ovolo's latest addition to the family is in Sydney's Woolloomooloo, and it's as full of quirk, colour & comfort as its other eccentric, eclectic siblings.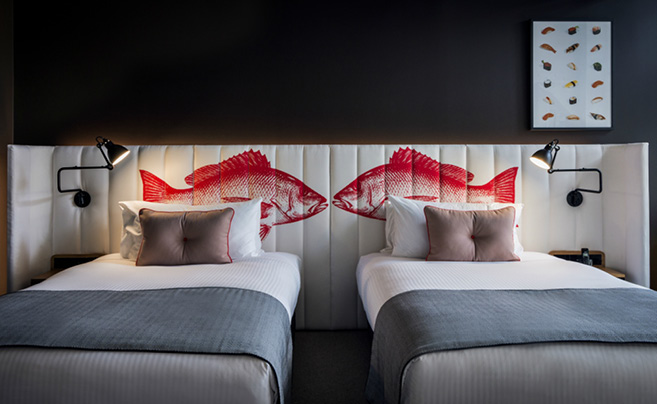 Not many people are aware of the fact that Woolloomooloo's iconic Finger Wharf is still standing due to some incredibly passionate protestors, who, in the 90s, blocked demolition crews and petitioned the government intent on tearing it down. Back then, the wharf was completely rundown and it was deemed too costly an exercise to restore it. Luckily, the unions stepped in and imposed a green ban, Clover Moore appealed to Paul Keating (then the treasurer) and Keating took the matter to the National Trust. Today, the longest timber-piled wharf in the world recently celebrated its one-hundreth birthday, and it's a sight to behold — a beautiful, clever blending of history, industrial beauty, and modern luxury. It's also home to a swag of swish apartments, fine-dining restaurants with some of the best views in Sydney, and the latest addition, the stunning Ovolo Woolloomooloo hotel.
It's the enormous range of quirky spaces tucked within the formerly expansive spaces that make Ovolo's lobby so special.
Ovolo's 100 rooms and suites are like capsules of Australian history — their soaring ceilings, steel-studded walls, and elements of their design and decor enhancing the industrial beauty that was born of it's former life as a working wharf. Add some quirky paintings, prints, and bright splashes of colour — a bright yellow sofa there, a funky bedhead decorated with red fish here — and tech-savvy inclusions such as curtains, lights and aircon operated with a touch of a finger, and you have a whole lot of comfort in a whole lot of wonderful space.
All rooms are spacious and luxurious, and some of the top suites are also very rock'n'roll — the INXS Suite has a mock fireplace bursting with bright lights and a small relaxation room with a netted swing to meditate in, while another loft suite has an ultra-cool wood-paneled circular 70s-style bar and a floor-to-ceiling bookcase.
Ovolo hotels are also about making people feel as though they are a guest in someone's home, so the mini bar (that is stocked with gourmet goodies) is free, as is the wi-fi and a cute tote bag to take some snacks with you when you venture out. There's also a self-service laundry, a 24-hour gym, awesome breakfast offerings created with top-notch produce, and even a bar in the main lobby where beer and wine, tea and coffee, and nibbles are free, all day long.
Alongside the 'free stuff', it's the enormous range of quirky spaces tucked within the formerly expansive spaces that make Ovolo's lobby so special. In fact, the main passage-like atrium of the wharf now has ceilings and petitions within the heritage-listed spaces — rooms within rooms — to create a sense of intimacy. And whether you're working, hosting a meeting, socialising, relaxing, or escaping from the outside world, there are so many spaces, you could hang out in a different one every morning and night on a week-long stay and still not experience them all. Within each space is a carefully curated collection of art, collectibles, books and random pieces that, if you scratch the surface, all have their own little stories to tell. Stories, within stories.
There are throngs of table settings with high-backed chairs beneath large potted trees bursting with fairy lights; colourful booths with fabric-padded walls filled with cushions that resemble genteel English beer garden settings, library-like spaces where sofas, plush rugs and coffee tables make for peaceful havens, and areas that could be the lounge or dining room of a friend's cool apartment.
Ovolo is in an enviable location when it comes to taking in Sydney's most iconic sights and experiences — the Royal Botanic Gardens, The Art Gallery of New South Wales, the Sydney Opera House, and Harbour Bridge, are all within walking distance. The CBD is a ten-minute stroll, or if you're after a more food-, fashion- and gallery-focused experience, a 20-minute walk will have you in some of Sydney's most hip and happening suburbs, such as Surry Hills, Darlinghurst, and Potts Point. However, if you don't want to wander too far, Ovolo's kitchen serves up impressive gastronomical delights created from the finest seasonal produce, and just a few steps from the lobby will have you at some of Sydney's most renowned fine-dining restaurants such as Otto Ristorante, Manta Restaurant and Bar, and China Doll.
Girish Jhunjhnuwala is an entrepreneur, and the founder and visionary behind Ovolo Hotels in Hong Kong and Australia. From his beginnings, working in the family's watch business, to the development of the first Ovolo hotel in 2002, Girish has always been about challenging industry convention. He spoke with The CEO Magazine.
Girish: We always strive to bring the local area into the hotel, and there is no cookie-cutter approach going on with us. We inject character into all of our spaces and art and design plays a large part in that. If you are after a Hilton or Hyatt kind of experience, that is not what you'll find at Ovolo.
A sense of being taken care of, down to the smallest of details, as the customer experience is our number one focus. From the lovely slippers to the extra USB ports, to the free beer and wine and a tote to take some snacks with you, we want guests to feel as though they are being taken care of by friends.
It's all about embracing individuality. Everyone looks at things differently, and as soon as you step into Ovolo, you can be who you want. At our hotels, you don't have to stick to a particular type of environment. Sit on an orange sofa if you like, network, enjoy happy hour, pick a spot to encourage your creativity. Basically, when you stay at the hotel, you don't have to stay in your room as there are so many options to enjoy, whether you are working or playing. I think that's what drives today's modern traveller — being able to do what they want to do, while also celebrating their individuality.
Good things take time, and sometimes you need to wait for what you are doing to be appreciated. I think I have always been a bit ahead of my time. At first some people said 'Wow, that's a bit wild, that's really different', and yes, there were times when I wondered if Ovolo would be embraced, but it worked. And it worked really well. People love Ovolo because it's a hotel group that is decidedly different.