Regal reality: Thorngrove Manor
Thorngrove Manor is a hotel that cannot be simply explained, nor easily understood. But delve into its multi-faceted layers of artistic endeavours, and the more you'll be in awe of its creator, Kenneth Lehmann.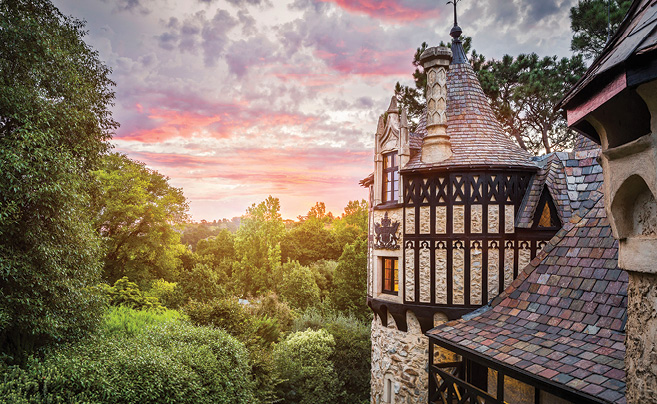 Folding back the wooden concertina shutters decorated with swirls of gold leaf, I look through the turret's mullioned dormer window, across a sky bursting with deep pink, orange and purple hues. A storm is on its way. Big black clouds are gathering, and as the colours disappear into the night, I look down onto the immaculately pruned English-style garden. In the light spilling from the castle's lower chambers, I can see mist swirling through the trees, around the rose bushes and hedges, and across the lawn's stepping stone path.
Then the rain hits, heavy and hard on the sharply sloping slate roof of our circular chamber. The winds follow soon after, like banshees howling through the trees, and then we're in the eye of the storm that has hit the Adelaide Hills.
I smile at the aptly dramatic weather, as we happen to be in the safest, sturdiest place we could possibly be — the tallest turret of a castle that we reached via a steep, narrow, stone spiral staircase that is like a portal into the past.
I close the windows surrounding our bed and ascend into the lounge and dining room that's adjoined to our bedroom with a few steps. Another door opens on to a circular spa bath that has its very own turret — two storeys of its circular wall peppered with gold stars that gradually disappear into a royal blue marble dome.
As the rain continues to fall, we take our seats at the eighteenth century antique dining table by a window overlooking more of the castle's grounds, and raise our glasses to good health, and good fortune.
We could be in Scotland in the thirteenth century, France in the Middle Ages, or
simply in a fairytale where we are king and queen, dining in our chambers while a storm rages through the villages. But actually, we are in Thorngrove Manor in the Adelaide Hills.
Three elegant crystal glasses — one for champagne, one for wine and one for water — are perfectly positioned next to bone china dinner plates with a delicate gold trim, and a silver bread basket is laden with freshly baked dinner rolls. The seventeenth century hallmarked cutlery laid out — three neat rows for the courses to come — was forged 400 years ago for British royalty. Peach silk ribbons are tied around our pressed antique Irish linen napkins, and two slender candles sit in their crystal holders, their flames reflected in the silverware and in the glass windowpanes.
Ask Kenneth why he embarked on this remarkable labour of love that is already three decades in the making, and his simple answer belies the myriad intricate imaginings.
Everything about the Thorngrove Manor has been meticulously chosen by owners Kenneth and Lydia Lehmann, who both have an irrepressible love of arts and crafts, a penchant for antiques and treasure hunting, and an utter passion for the stories linked to everything they have collected for their beloved castle. Rooms and spaces have, in many cases, actually been created around a particular object that one or the other has found, to fit it into the grander Thorngrove Manor scheme.
Ask Kenneth why he embarked on this remarkable labour of love that is already three decades in the making, and his simple answer belies the myriad intricate imaginings and heartfelt philosophies that are woven into the castle's creation: "I'm still a boy at heart, and I love my wife dearly," he says. "And who wouldn't want their wife to live in a castle?"
A seventeenth century French tapestry covers the wall of our lounge-room, depicting lords, ladies, and a hound hunting in the flower fields before a castle. The detail in the tapestry is impressive in itself, but just like everything at Thorngrove, look closer and even the the two matching bulbous antique French Passementerie silk tassels hanging to either side of it are intricately detailed handmade works of art.
We sip on our red wine (a 1.5-hour drive from Thorngrove will have you at the Henschke Estate so it would be rude to not stock up on some of their finest) and listen to the storm.
Then a bell rings, and our dinner experience begins, with Kenneth ascending the spiral staircase to set up a foldout table in the hallway. Antique, of course. Then he disappears again to fetch our entrees.
Kenneth has to be one of the fittest hoteliers in the country. He could bring everything at one time, but that's not his style — he's a perfectionist who wants his guests to have the complete experience and that means everything is done (removing plates, adding more bread) separately, lovingly.
First course is a delicately assembled tower of King Prawns with asparagus and caviar, every element on the plate obviously fussed over — it's perfect in its compilation despite the many stone steps that Kenneth navigated.
Second course is tenderloin steaks, cooked to perfection with an assortment of artfully placed homegrown garden vegetables, and gravy, which looks like strokes from a paintbrush. "It's all Nydia's marvellous handiwork," Kenneth says, admitting gleefully that he is charge of the thick, hand-cut chunky potato chips, which he has beautifully stacked like criss-crossed sleepers. They're lip-smackingly good.
The fascinating thing is, absolutely everything has a specific reason for being exactly where it is, tying more of Kenneth's dream tightly into place.
Dessert is an apple and raspberry crumble tart, and a mixed berry pavlova adorned with a spider-web thin entanglement of hardened caramel, that is one of Nydia's specialties. Once our meal is over and coffee and tea is served (Kenneth must have made more than fifteen trips up and down the stairs for us and there hasn't been a puff or pant emitted), we relax and talk to the highly entertaining king of the castle, thirsting after more stories tucked away in this Aladdin's cave.
One of Kenneth and Nydia's most impressive finds is an invaluable four-panel stunning 1860s leadlight artwork over four-metres long from Scotland's historic town of Selkirk, that was created for the House of Lords — Parliament House. A local recently discovered its whereabouts at Thorngrove Manor, and a party doggedly attempted to buy it back, understandably to no avail. "They asked me how I got them out of the country and I told them I bought it and had it shipped back," says Kenneth, grinning from ear-to-ear and still completely delighted by its heritage and his luck at securing it.
There are obvious nods to English and French history throughout Thorngrove, but during a special tour, Kenneth often refers to William Morris, who was an artist, poet, writer, and socialist, and also a leading member of the arts and crafts movement in the nineteenth century. Morris was best known for his intricately patterned designs, particularly applied to fabrics and wallpapers. He brought art and industry together by merging fine art with commercial design. Once you spot the Morris influence in Thorngrove, not only are there elements of his art and approach in many things that Kenneth has created, you can also glean a little understanding of Kenneth's similar approach, in that Morris believed that a designer should have a working knowledge of any media he used. That meant, like Kenneth today, he dedicated much time and effort to teaching himself different arts and crafts techniques. Kenneth works with wood, plays with plaster, paints, builds, commissions designers for stained glass and sewing projects that result in other pieces (such as a Morris-inspired quilt cover by one artist and a stained glass artwork in the King's Chambers door to complement his Selkirk masterpiece) that become another detailed part of his own masterpiece.
"Yes, I built Thorngrove," Kenneth says, "But that's not it. This place would be like a wedding cake with no decoration on it if weren't for the pieces within it."
Floors are covered in slate, and the unbelieavable montage of shimmering slate shingles on the many roofs that give the castle its fairytale appearance is a startling feat in itself. The thick walls are constructed of Angaston marble, lending quietness to each suite. And to add another level to this feeling of seclusion and privacy, there are seven staircases in the castle, and a separate entrance for each suite, so that guests do not see one another. Kenneth and Nydia only like to have two suites occupied at any one time anyway, to also ensure that guests have everything they need and that they can offer their finest service.
Interesting objects set Kenneth off on new and challenging missions: the life-size Auguste Moreau bronze statue appeared on his radar for instance, and off he went, constructing everything else around it, and taking many an idea from it. The dining room off the King's Chamber is another example of his creativity, with the entire room built to fit around the gold candelabra chandelier that holds twenty-five candles.
Sometimes Kenneth zeroes in on an element of a piece — a woman's body, a wolf engraved into a chair, or a fleur-de-lys, and then he replicates it and adds it to other things. The wooden fox, for example, was replicated with plaster castings, and then recreated to adorn a bedhead. The figure of a woman, taken from a sculpture, is replicated to adorn wall space by a fireplace. He might take a flower from a quilt design and replicate it upon hand-sewn pillow covers, or it might become a part of a painting on a stairwell. The Queen's chamber, has a false ceiling made of 3,600 individually cast pieces of plaster, every single one of them made, and replicated, with his deft hands.
The fascinating thing is, everything has a specific reason for being exactly where it is, tying more of Kenneth's dream tightly into place. It's almost like a game. And a fun one too, that Kenneth will never tire of. "I've never grown up!" he says, beaming.
Calling Thorngrove Manor a building, a hotel, or a home, doesn't do Kenneth's creation justice. And if you boil down its many astounding elements in an attempt to get to its essence (its doubtful that anyone can do that, even perhaps Kenneth) then it could be viewed as an ever-evolving work of art, encapsulating thousands of smaller works of art. Like a lovingly handmade kaleidoscope. It's also solid proof of a man's love for his wife — evidence of Kenneth's determination to turn a fanciful dream into a regal reality.