St Marys Residence: Home away from home
St Marys Residence is a cross between a Ralph Lauren showroom, a private penthouse, and a retreat in the Hamptons.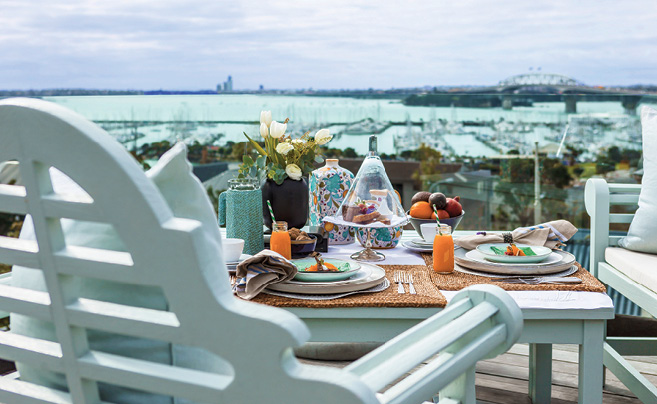 Hidden in and among the pretty, character-filled houses lining the streets of Auckland's St Marys Bay sits a unique accommodation offering. St Marys Residence is a discreet haven in an utterly picturesque setting; a stylish option for the discerning traveller looking to get away. It exudes elegance and class, yet it still evokes a feeling of being right at home.
It's the grand vision of Michael Coutts and Manjit Kaur brought to life. The pair have turned their former home—a three-storey property with uninterrupted views of Auckland's harbours—into St Marys. Catering for the increasing number of high net-worth visitors—including celebrities, CEOs, and royalty—coming to Auckland for both business and pleasure, it's a welcome addition to the city's luxury accommodation scene.
Influenced by their own worldly travels and the skills gained from their professional careers (Michael in hospitality and Manjit in recruitment), the two have created a customer-centric space that offers a first-rate and unrivalled experience.
St Marys sleeps up to six people and, unlike a hotel, it has a one-party policy. There are three bedrooms, including the Pacific Ocean Master Suite—which comes with a private lounge and a bar stocked with fresh juices, Nespresso coffee, New Zealand wines, and French Mariage Fréres tea—and the Courtyard Garden Suite. Additionally, there are plenty of cosy nooks both inside and out. The Roof Terrace is an ideal spot to watch the superyachts bob about in Viaduct Harbour, while the downstairs Den is filled with a bevy of entertainment options, as well as a personal writing desk.
The colour palette throughout St Marys is soft and natural, with freshly picked orchids adding subtle bursts of colour. There's a Swarovski chandelier dangling from the ceiling, antique French oak floors, alpaca wool carpet, and organic linen. Quality is certainly not skimped on here at the residence. Michael and Manjit have thought of every tiny detail, even in the light-filled kitchen, where a resident chef is always on hand to whip up tasty treats for visitors.
"Food must be pleasurable at any time of life, and especially at an experience likeSt Marys," Manjit says. "We get a brief from the client prior to their stay, which is
very thorough, including information on any allergies or dietary requirements, and then we get into a discussion about the menus. We want to create a home away from home, even with regard to sustenance for our guests. We use organic produce where possible, as well as artisanal and local ingredients.
You can download the full article below…