Suite sensations: QT Sydney
Culture and creativity collide at the imaginative and indulgent QT hotel in the Sydney CBD.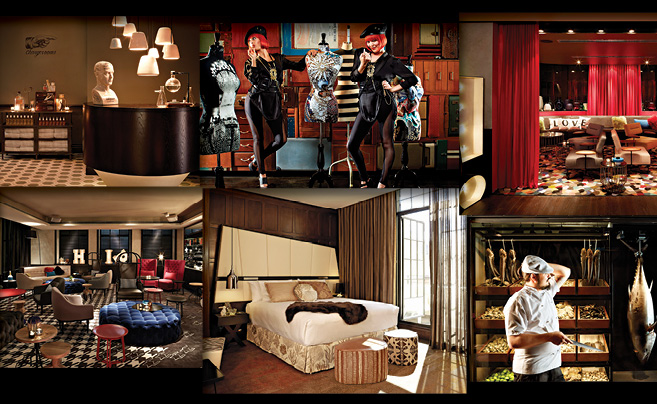 Young, glamorous, and slightly edgy, the girl posed seductively in the doorway of QT Sydney is a bold advertisement of what's inside. Outfitted in a tight, black suit and with cropped, red hair as bright as her lipstick, she ushers us into this remarkable den of decadence in the heart of the Sydney CBD.
Branding expert Fabio Ongarato was going for a mix of Art Deco, innuendo, voyeurism, surrealism, opulence, noir, and intrigue when conceiving the look for the hotel, and he succeeded beautifully.
There's no doubting the attention to detail that went into the creation of every single aspect of this hotel, and the result is a delightful mix of swagger and verve.
The hotel is housed inside both the heritage State Theatre and the Gowings buildings, so the nod to theatre and fashion are no surprise; however, QT has managed to inject an enormous amount of fun into its offering as well, with pops of bright colour, walls of old science lab equipment, carefully curated video installations, and lots of cut glass and glamour. It's like Gatsby-meets-Rocky Horror at Paris Fashion Week.
My appetite for decadence piqued, I book a massage for later at the onsite spaQ and then head up to the State Suite — one of two — on the tenth floor. Here the hedonism continues: the timber-panelled rooms are vast, the bar offerings top-shelf, and there's even two martini glasses on the coffee table in the lounge room with mini bottles of Patron Café, Grey Goose Vodka, a Nespresso coffee pod, and a recipe for Espresso Martini. Oh, go on then, why not?