Welcome to Samoa
Welcome to Samoa – a tropical paradise with pristine beaches, an abundance of culture, and a hint of adventure.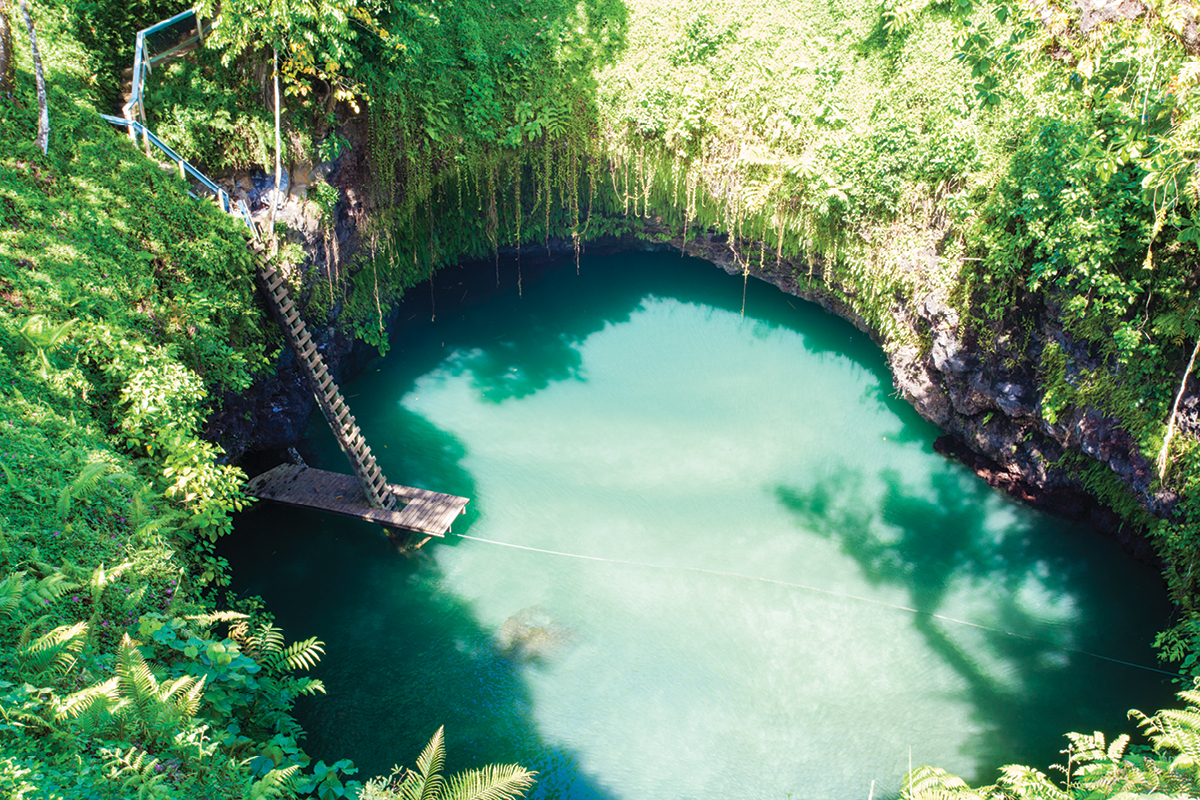 Taking a deep breath, I slowly ease myself down, one foot after the other, sweaty palms clenching tightly onto the wooden rungs of the ladder. There's some commotion going on beneath me and I hesitantly peer back over my sun-freckled shoulder to see, careful not to lose my white-knuckle grip. It's a long way down, after all.
I just miss the action. My travel companion has cannonballed off the wooden platform metres below me into a large, turquoise body of water, resurfacing with an ear-to-ear grin, droplets of water trickling down his face.
I'm probably only 10 or so steps away from joining the fun. But I'm stuck, halfway down this incredibly steep ladder with only two ways to go – back up or down. I try to take in my surroundings as I calm my breath, building up the courage to continue.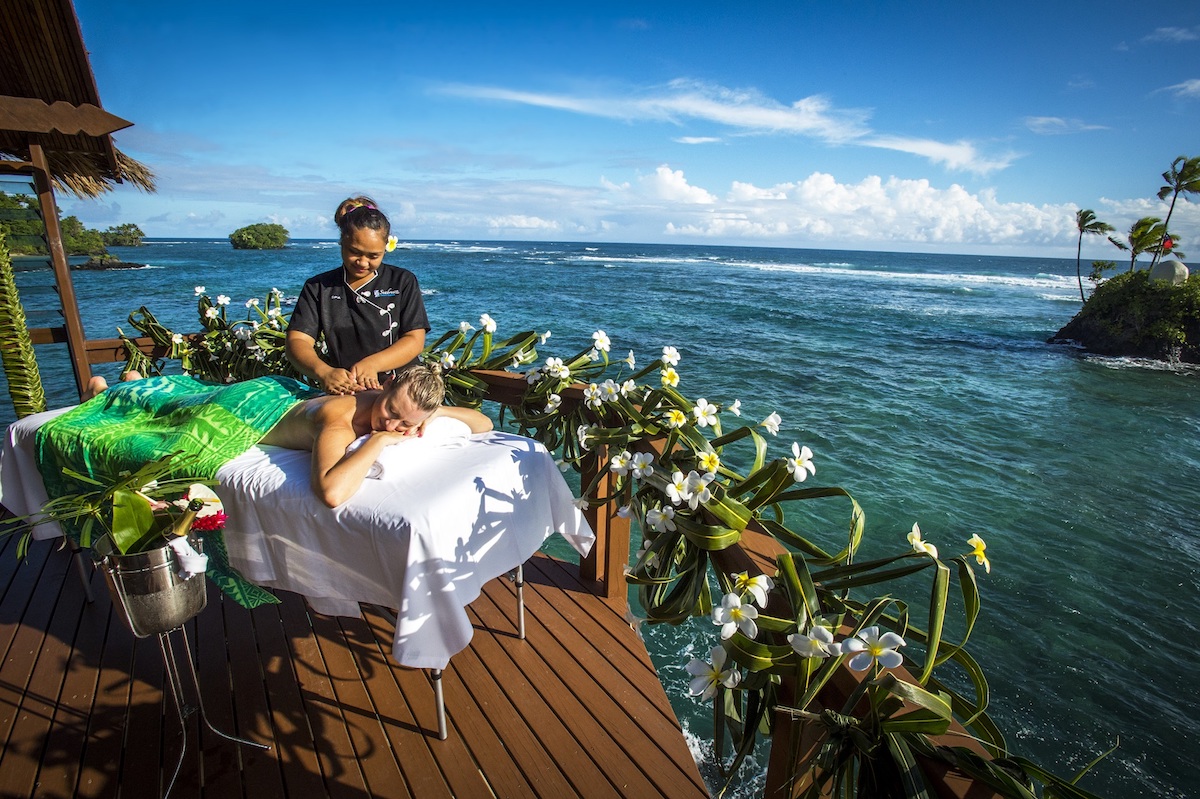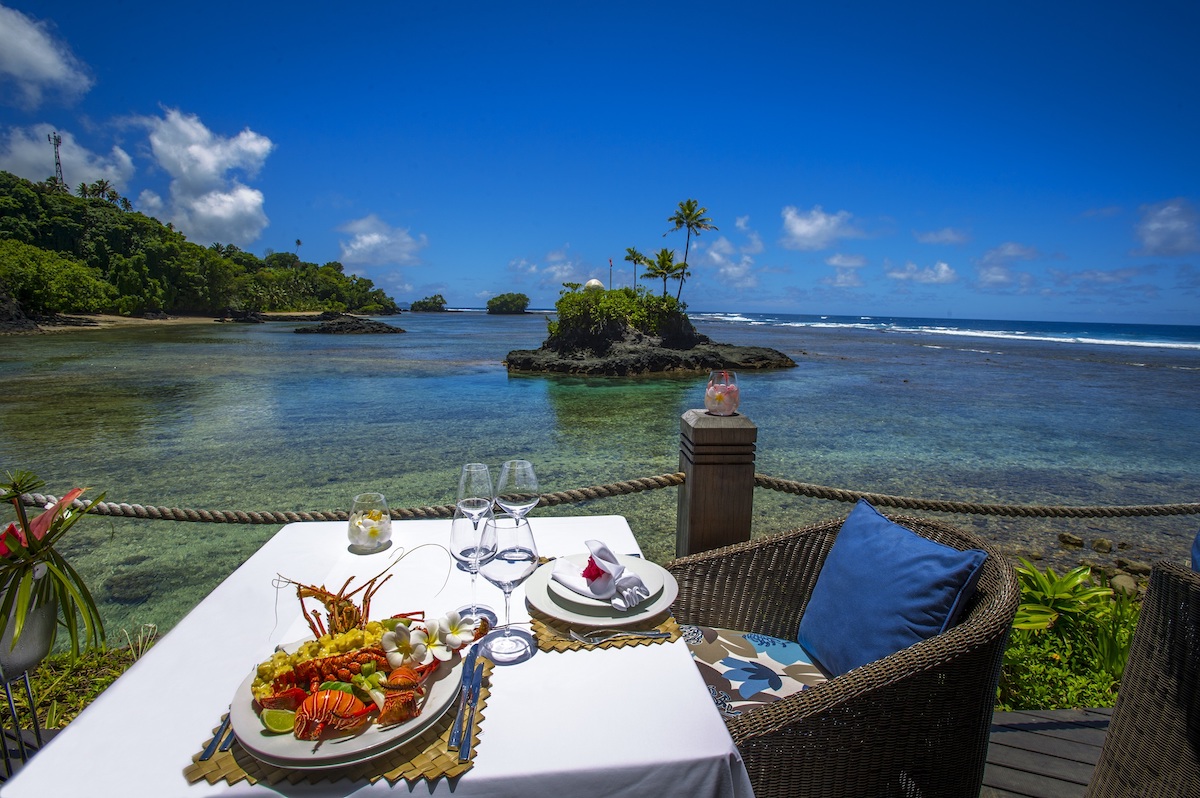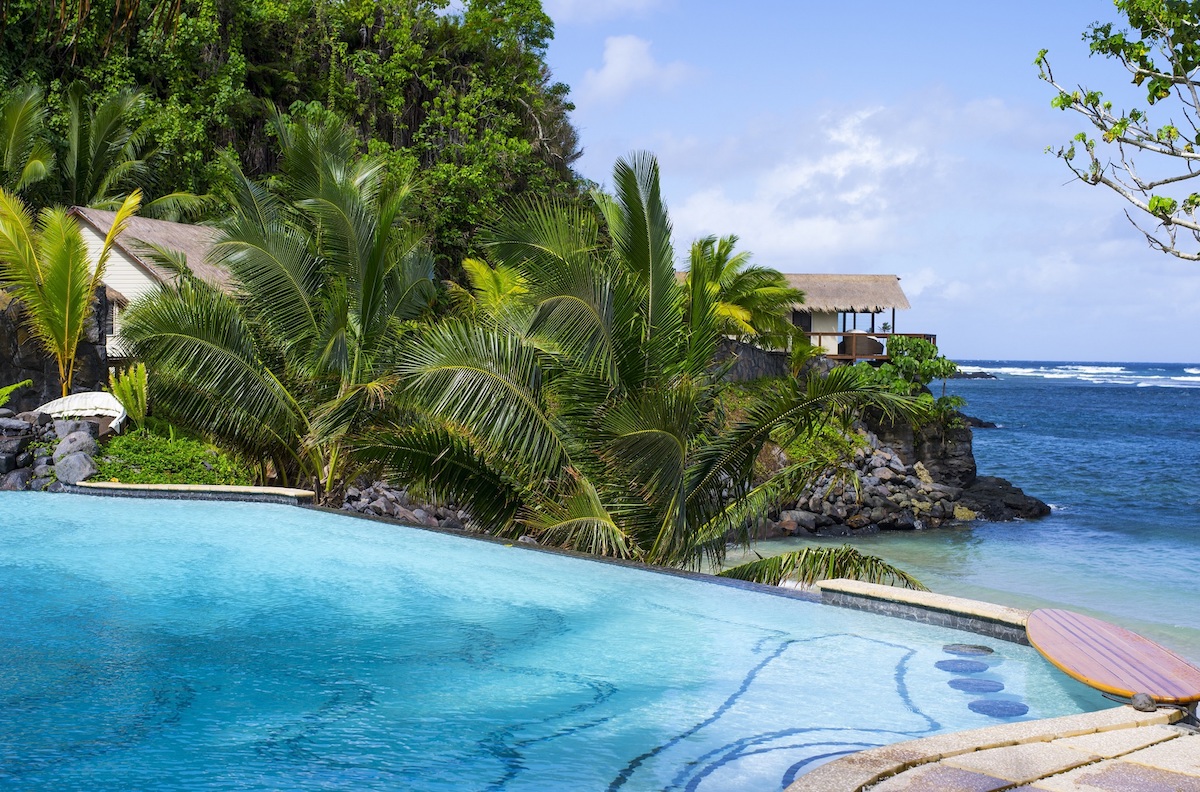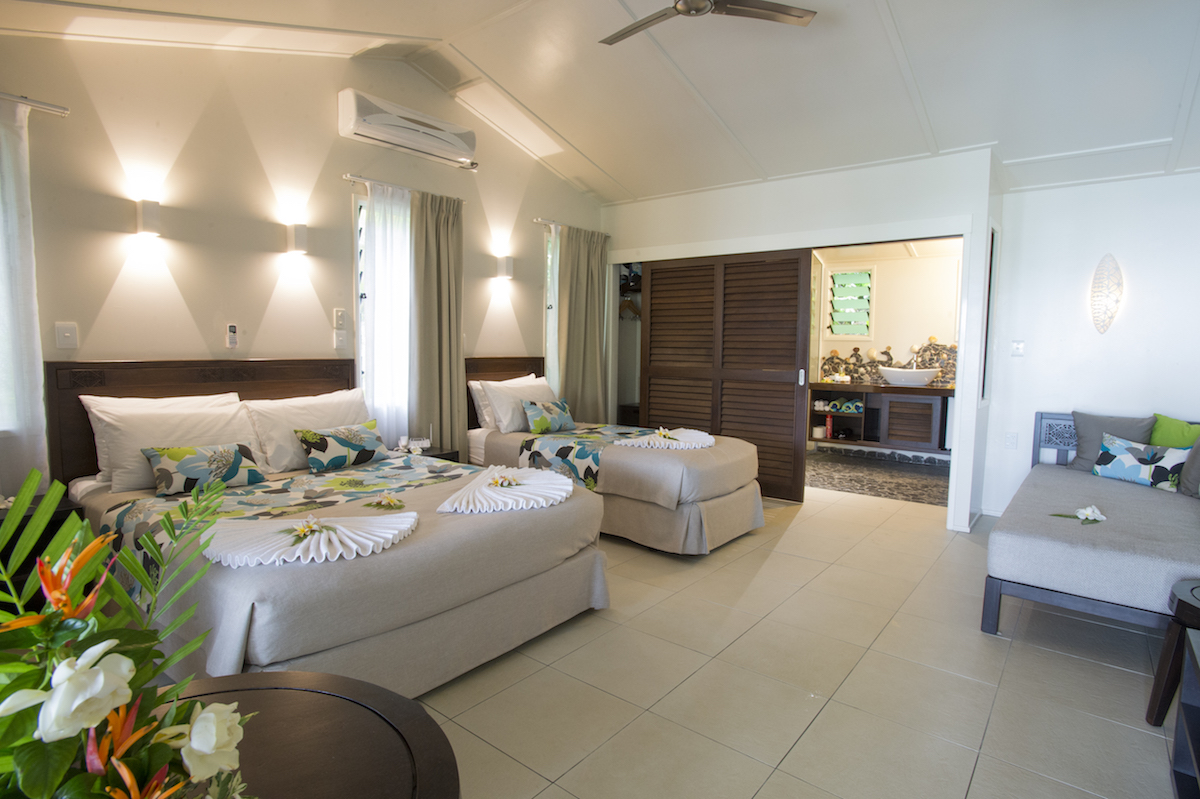 I'm at To Sua Ocean Trench – an iconic swimming spot on Samoa's main island, Upolu. It's a sinkhole that was formed by an ancient lava eruption and it's the perfect spot to cool off from the island's tropical clime. The deep crater is half-full, the sea water entering from the ocean through a series of underground canals and tunnels.
The water, unbelievably clear, is surrounded by dark caves and crevices and grey–brown earthen walls. There's a draping of lush vegetation that tumbles down as an extension to the green grass on ground level above. It's one of those picturesque spots that's always on social media, featuring as a must-visit, bucket-list location. Well, I'm here, but at this point I don't know if I'll make it out alive.
Precariously, I inch myself down a little further, one shaky foot after the other until it navigates the next rung … and just a teensy bit further. Soon enough I've made it onto the timber platform, giving me unbridled access to the expanse of cool water into which I clumsily dive.
I try not to think about the task that awaits later – heaving myself back up that ladder – and ground myself to focus on the present moment. It's a truly beautiful spot. I was expecting that, though. Everywhere I've been on the Polynesian island so far has been utterly breathtaking – from the fertile valleys to the lush rainforests that hug the coastline, to the cascading waterfalls.
There's natural beauty and vibrant colour everywhere you look. Even the television producers of American Survivor recognised Samoa's magnificence when they chose to film the nineteenth season of the reality show here.
Samoa sits in the Pacific Ocean, halfway between New Zealand and Hawaii. It's made up of six islands, with two well-known ones – Upolu, which is the gateway to the country, and Savai'i, the larger of the two, which is accessed via a 90-minute ferry ride from Upolu.
The country boasts a fine mix of untouched landscapes, strong cultural heritage, and a gentle way of life. Throw in an abundance of friendly hospitality and it's hard to pass it up as a holiday spot.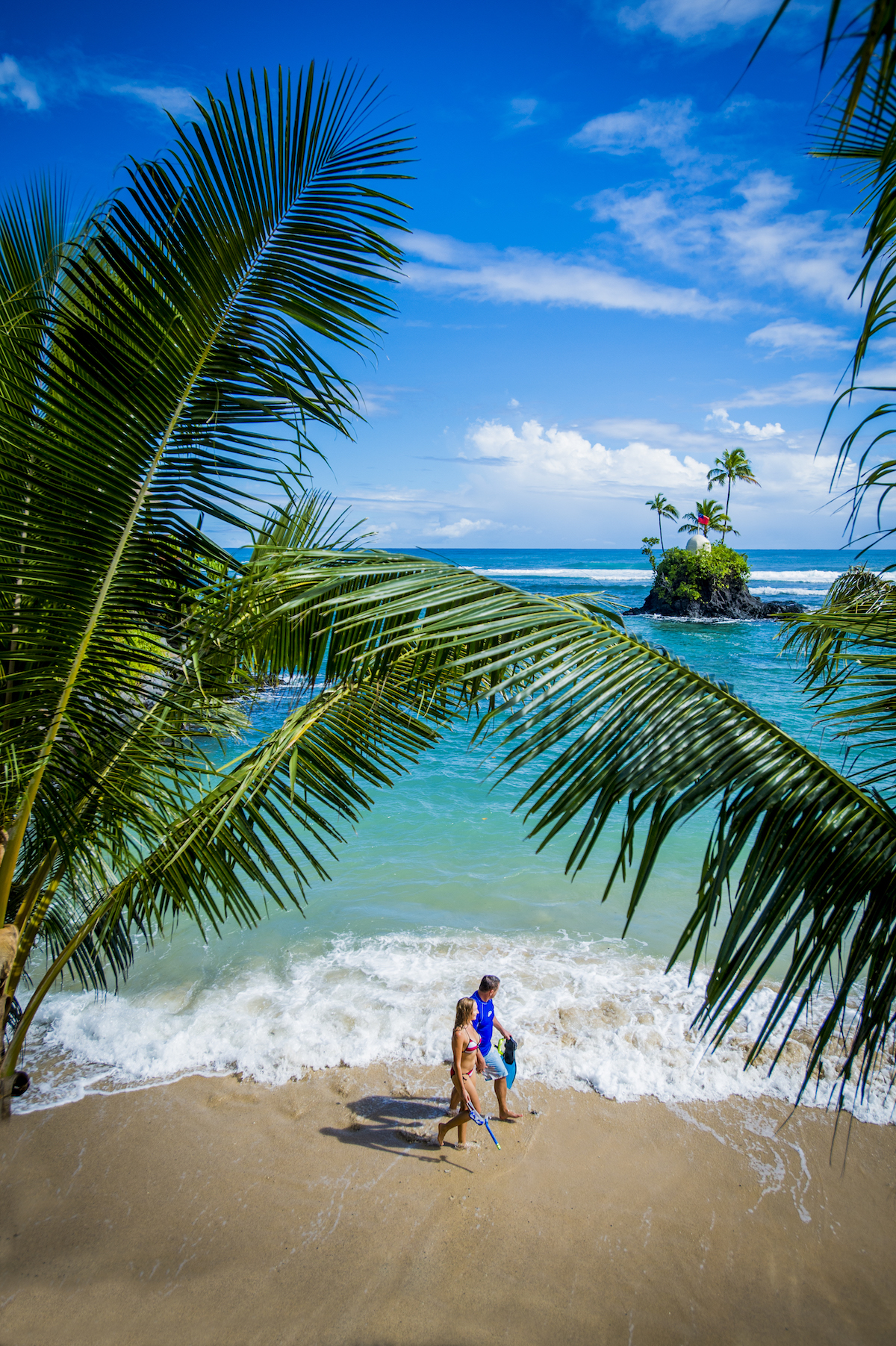 Everywhere I've been on the Polynesian island so far has been utterly breathtaking – from the fertile valleys to the lush rainforests that hug the coastline, to the cascading waterfalls.
While it's not difficult to fall head over heels for a country like this, staying in an award-winning hotel can certainly ignite that spark a little bit quicker. Seabreeze Resort has taken out the title of Samoa's Leading Hotel at the World Travel Awards for five consecutive years. So, you know you're in good hands when you're being looked after by owners Chris and Wendy Booth and their team of local staff.
The couple are originally from Australia and adored their regular visits to Samoa as holiday-goers. However, they quickly identified a gap in the accommodation market. So they set about building their own spot in paradise, one they could share with others to really showcase the exquisite beauty they'd been privy to.
Located in Paradise Cove on the south-east coastline, Seabreeze opened in 2007 and quickly garnered a reputation for its authentic take on Samoan hospitality. However, a cruel twist of fate struck in the form of the 2009 tsunami, which left the site devastated.
Despite the challenges this presented, the natural disaster wasn't going to keep the Booths down and they set about rebuilding Seabreeze into something even better than before. At the end of 2011, it reopened, this time as a boutique, adults-only luxury resort, with all the mod cons one might need for a revitalising tropical island stay.
---
Exploring Upolu
Go for a stroll through the nearby villages, hire a car from the resort to travel a little further, or book a guided tour to learn more about Samoa and its people. There's a road that follows the perimeter of the island making it easy to get around.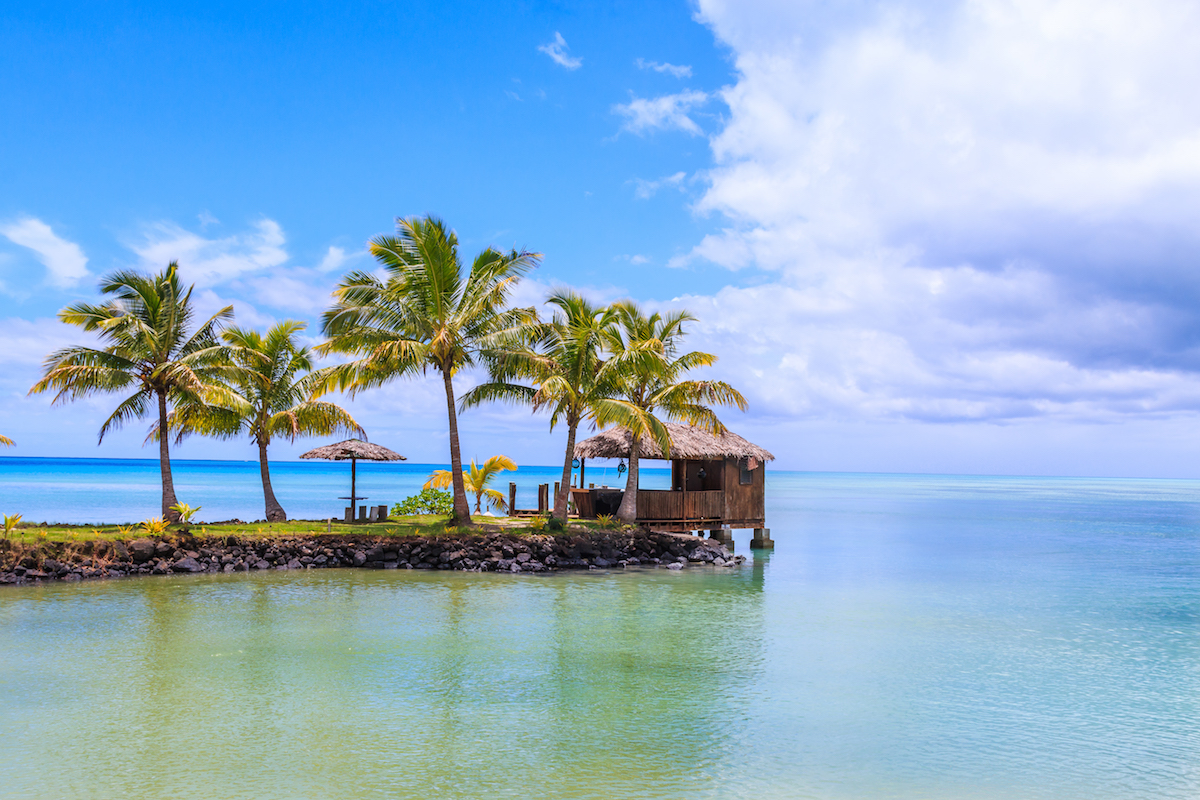 Visit the capital, Apia
Find an abundance of tropical fruit and coconuts at the food market (Maketi Fao), then meander your way around the flea market to take a little piece of Samoa home with you – perhaps a lava lava or some jewellery.
Take a cultural tour
In Apia, the Samoa Tourism Authority's Cultural Village is a must-do to learn about the unique traditions and culture. Book in for the cultural show where you can taste local cuisine cooked in an umu (the food is wrapped in leaves and cooked under hot coals on the ground), watch a tattoo artist at work and see how a lava lava is made.
Book a beach hut
Visit the white sandy beach of Lalomanu and hire a beach hut (fale) for the day.
Chase waterfalls
At Togitogiga Falls and National Park, there are cascading waterfalls that take your breath away, as well as swimming holes and walking tracks to explore.
---
Set on a private ocean lagoon and reef, there are only a handful of villas and each has panoramic ocean views. The pick of the rooms is Honeymoon Point House, which we're staying in. It's a spacious hideaway accessed by a gentle, sloping path with the best vista of the coastal landscape.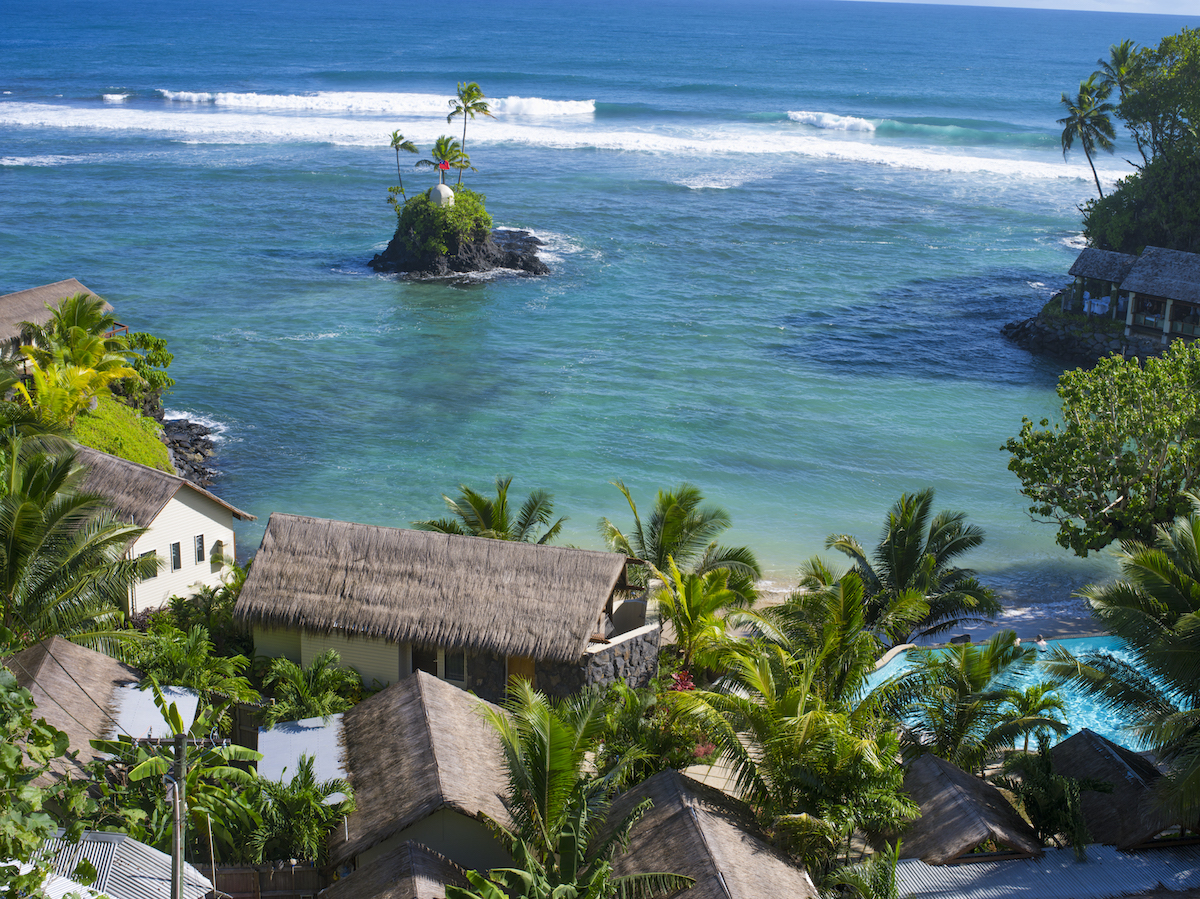 The room, with its king bed, private courtyard and large deck, sits on the point of a cliff, jutting out over the sea to offer ocean views from three sides. We quickly find ourselves lulled into a state of calm thanks to the soothing hum of the ocean and the fresh breeze coming off the water, offering us sweet relief from the tropical sun's warm rays. Lying on the daybed for a short rest, I find that the minutes turn into hours.
The owners have thought of everything. There is a special, familiar touch, and the Seabreeze team often goes the extra mile to ensure that our stay surpasses any other. We watch complimentary champagne being given to a couple celebrating their wedding anniversary – return visitors who honeymooned here. And we witness wait staff at the on-site restaurant serenading their goodbyes in the local dialect to a small group on their final night's stay.
Our first couple of days are spent relaxing at the resort lazing about with books, taking naps and dipping into the ocean. We get massages in our villa and dine on our deck. We go snorkelling and kayaking, and have cocktails by the pool. Once we're feeling energised, we decide to venture out and explore the island – but only after we've received a thorough briefing of ways to spend our time from Chris, who excitedly presses a marked-up map into our hands and sends us on our daytrip.
We have a tour guide for one of our adventures and he gives us a rundown of Samoan culture. We drive through a village, called a nu'u (of which there are 362 in Samoa), and wave to locals gathering for church, putting on the brakes every now and then to let a pig, chicken or dog cross the road.
Our guide tells us that the coconut tree is "the tree of life" for the Samoan people thanks to its many uses, and he gives us a little insight into traditional tattoos (tatou) – a highly refined art in Polynesia with significant cultural meaning. We visit waterfalls and white sandy beaches, before driving through a gate into the pristine gardens that surround To Sua Ocean Trench.
Our guide waves us off and tells us to enjoy ourselves, to which we reply with a big thank you – fa'afetai. And before I can even whip my lava lava off (the sarong I'd bought just the day before), my partner has bounded off towards the swimming hole. He's already halfway down the wooden ladder and signals for me to follow. "It's easy," he says. I take a deep breath of courage and begin the journey down.
Images: Seabreeze Resort