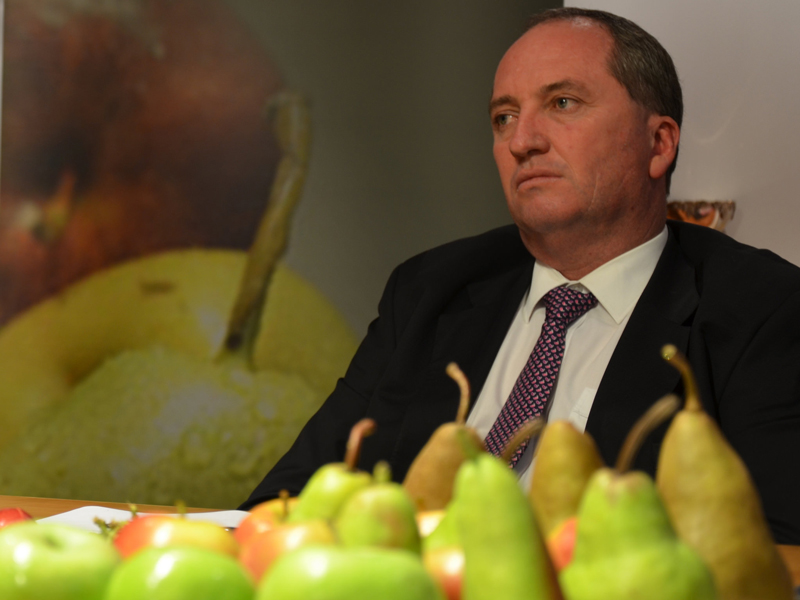 Barnaby Joyce is the sort of bloke who will happily have a smoke and a beer with anyone, a terrific natural politician, often frank and usually entertaining. He's an ideal local MP. But as Deputy Prime Minister and Minister for Agriculture and Water Resources, he is a man elevated above his level of competence.
Joyce sees himself as the champion of a downtrodden group: regional and rural Australians. It would be tempting to say that he appeals to the same mindset as Donald Trump, but he usually behaves with a decency that Trump doesn't possess.
He does, however, possess a Trumpian lack of interest in good policy. He wants to Make Regional Australia Great Again, without having any real idea how to do it.
This isn't a matter of right versus left. Labor has put plenty of duds and worse into parliaments over the years, but Joyce is Deputy Prime Minister. Nor is it a matter of city versus country; parts of regional Australia have very real and very large problems that need smart solutions. Joyce's problem is his instinct to grasp at not-so-smart solutions.
A few examples:
This reaction to the water rights scandal is pure Joyce, committed to his people but with no sense of the greater national need – in this case, the need to share out limited water between four states, including parched SA. Joyce took aim at "the Greenies", but in truth water rights disputes predate the Green movement by hundreds of years.
Prime Minister Malcolm Turnbull, no doubt also conscious of SA voters' loathing of upstream water thieves, has now slapped down Joyce by ordering a federal review of water law compliance. He can't apply much more discipline, because as head of the National Party Joyce enjoys a certain level of protection.
Nevertheless, independent SA senator Nick Xenophon is suggesting power over national water policy should be siphoned out of Joyce's portfolio. Coalition politics makes this very unlikely. But it would be a sensible step – to rein in a minister who has never quite found his way beyond the role of endearing local member.

Feature image courtesy of: Apply and Pear Australia Ltd