The Mercedes-Benz S-Class has always been known to take luxury and motoring to a level not previously imagined in a car and, in essence, defines the Mercedes luxury brand. The EQS is the first all-electric luxury saloon car, which has taken seven years to build, and is the first built off Mercedes' new modular architecture for luxury and executive-class electric vehicles.
"The EQS is designed to exceed the expectations of even our most demanding customers. That's exactly what a Mercedes has to do to earn the letter 'S' in its name. Because we don't award that letter lightly," said Ola Källenius, CEO of Daimler AG and Mercedes-Benz AG.
The EQS is the template on which Mercedes is staking its future, it is setting a new benchmark in technical features, design, quality and battery performance as Mercedes makes the shift from a 'legacy manufacturer' towards a luxurious battery electric vehicle maker. The EQS is really important to Mercedes.
"The EQS is a milestone on the way to CO2-neutrality and our plan for a climate-neutral new car fleet. Our goal is to minimise our impact on the planet. We do this, for example, by using an increasing proportion of recycled and renewable raw materials. We also help the customer to minimise their carbon footprint with our new function Green Charging. This feeds as much green electricity back into the grid as the Mercedes-EQ needs to charge," said Britta Seeger, Member of Daimler AG and Mercedes-Benz AG Boards of Management, Marketing & Sales.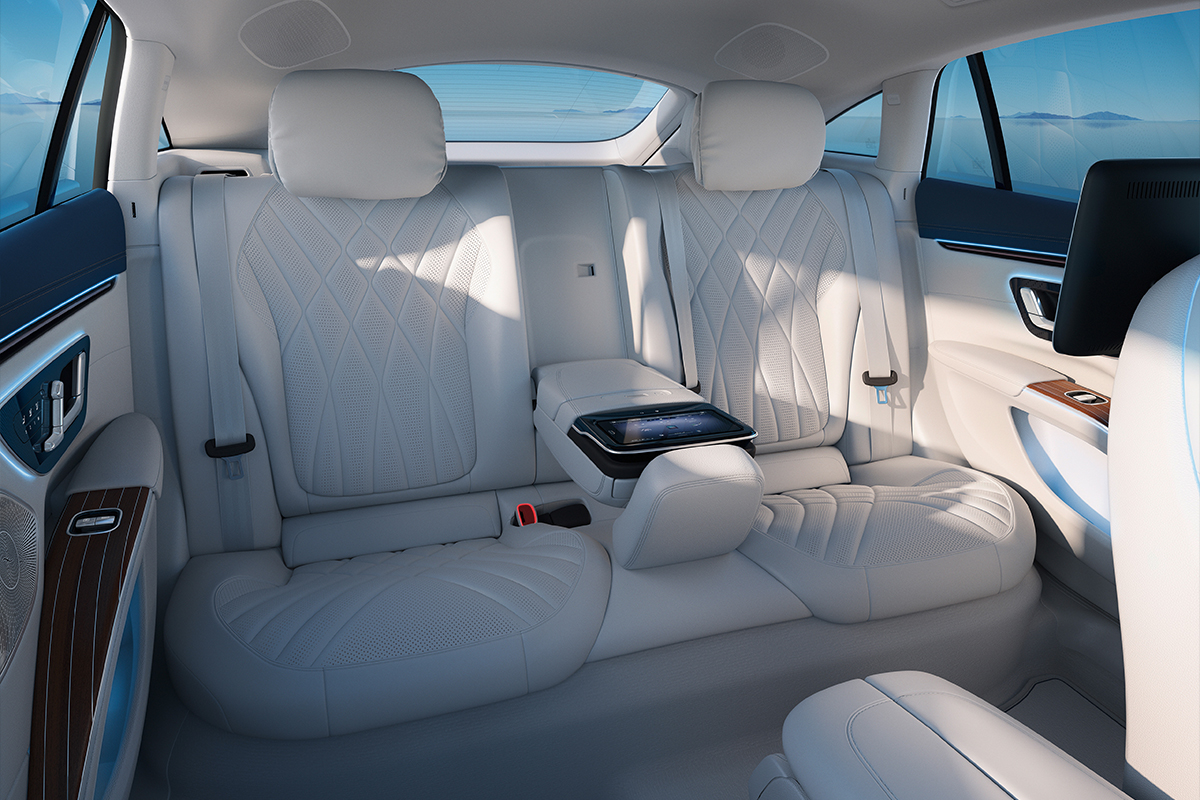 The first models on the market will be the EQS 450+ and the EQS 580 4MATIC.
The groundbreaking EQS
The EQS is the world's most aerodynamic production vehicle, with a drag coefficient of just 0.20. It basically makes no noise when moving.
Mercedes claims it has an electric distance range of up to 770 kilometres.
A fast-charging capacity of up to 200 kilowatts, up to 300 kilometres of range can be added in just 15 minutes.
"Its technology goes beyond electric driving: Thanks to its comprehensive sensor technology and intelligence, the EQS sees practically everything around it and becomes a co-pilot. Our customers therefore get more comfort both on long-distance trips and in large, busy cities." said Markus Schäfer, Member of the Daimler AG and Mercedes-Benz AG Boards of Management; Daimler Group Research and COO Mercedes-Benz Cars.
The EQS has a portrait touchscreen and dashboard from the S-Class as standard. There is the option to upgrade to the MBUX Hyperscreen for 377 square inches of monitor screen.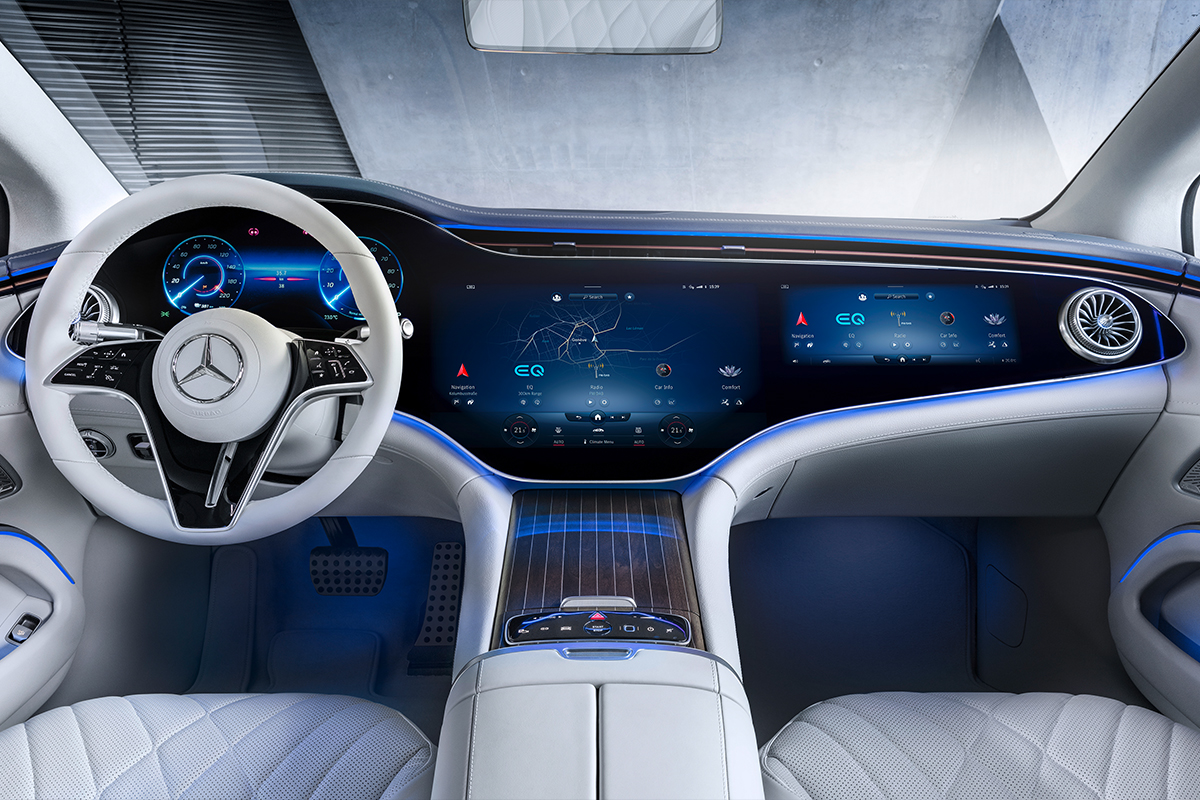 The MBUX Hyperscreen triple-screen set-up incorporates centre (17.7-inch), driver and passenger (both 12.3-inch) displays behind a single pane of curved, distortion-free aluminium silicate glass that spans almost the entire width of the car. It has eight CPU cores and 24 gigabytes of RAM. The centre and passenger screens are of the super-sharp, super-colourful OLED variety and both feature haptic and force feedback. The latter – where the screen knows how hard you're prodding it and can vary its responses accordingly – has not been seen in a car before. The EQS also has voice control.
The screen sounds daunting, but this is S-Class. It employs artificial intelligence to predict what you want to do before you've done it and then proactively surfaces relevant functions at exactly the right moment, which means you don't need to swipe through endless sub-menus to find them. Mercedes asks MBUX users what they liked and disliked and has listened.
"Thanks to MBUX, our vehicles these days have become mobile assistants. In the EQS, we go a few steps further: Here, clever supporters such as navigation with Electric Intelligence are integrated into MBUX, making it even easier to use. At the same time, the Hyperscreen and zero-layer concept show how stylish, individual and at the same time simple the operation of even complex content can be," said Sajjad Khan, Member of the Board of Management of Mercedes-Benz AG and CTO.
Germany's luxury car builders Audi, BMW and now Mercedes, with their reputations for engineering quality plus established dealer and maintenance networks, have now launched all-electric vehicles to take on Tesla in the luxury saloon segment.
The Mercedes EQS is also significant as the company aims to be a carbon-neutral new car fleet within 20 years from now.
The look is strikingly different, with what Mercedes calls the cab-forward design. It sits sportily low and has frameless doors. There are no body creases. A black grille defines the striking face of the EQS. Mercedes has created an enormous amount of room inside, coupled with astonishing aerodynamics.