Game of Thrones may be the most popular television show in the world; a genuine pop culture phenomenon and a widely popular hit in an age where the monoculture is often pronounced dead. It has now entered its final season, prompting a mass outpouring of grief from fans across the world.
One of the more novel tributes to the show's looming finish is a series of special releases from some of the most familiar names in Scotch single malt whisky making. Each expression is linked to one of the Great Houses of Game of Thrones, while the Oban varietal pays tribute to the Night's Watch.
Launched among the shadows and Scandinavian rustic trappings of Sydney's Mjølner restaurant, the spirits pay creative tribute to the drama, geographical sprawl and epic scale of Game of Thrones and have appeal whether you're a completist of the books and show, or a whisky lover who doesn't know their Tyrell from their Targaryen.
Royal Lochnagar 12-year-old (A tribute to the house of Baratheon)
A bold whisky with a sweeter back palate, this one pairs well with something gamey, like the raw venison canapes it was served with at the launch. Royal Lochnagar is not as well-known as some other Highlands distilleries, but it is no new kid on the block; Queen Victoria even paid it a visit back in the day. A very interesting release for those looking to explore some less familiar distilleries.
Clynelish Reserve (Tyrell)
A light autumnal shade in colour, this is an easy-drinking Highland whisky with some fruity, floral notes before some vanilla on the finish. More redolent of pastoral beauty than the chaos and violence of the show, it's a very approachable spirit.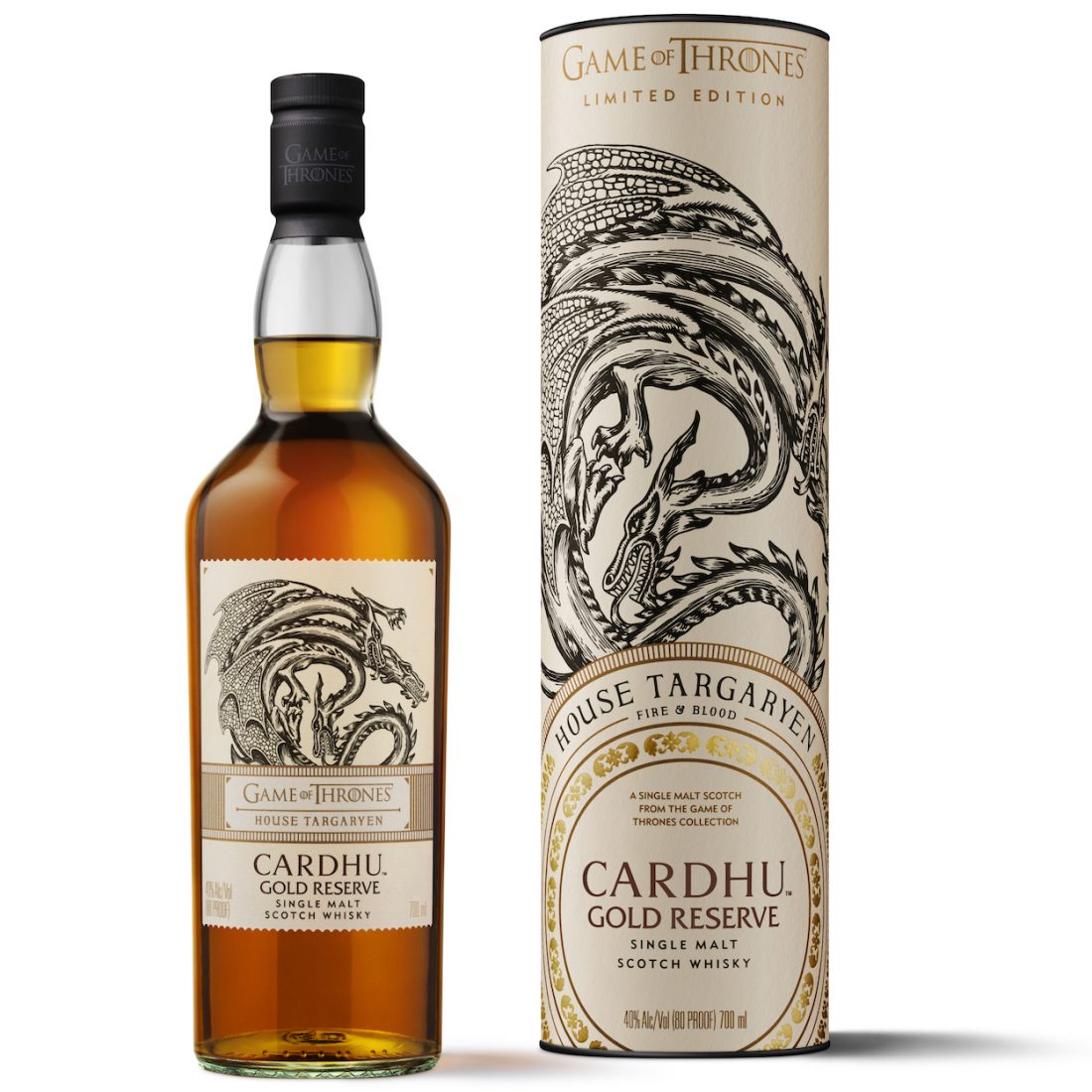 Cardhu Gold Reserve (Targaryen)
Fans of Game of Thrones consider Queen Daenerys Targaryen the exemplar of a strong woman, so it's apt that her house is represented by Cardhu, a distillery that was formed by Helen and Elizabeth Cumming, rare examples of women calling the shots in a male-dominated industry.
The spirit is easy to like, coming on like a fruit pastry with its sweet and buttery flavours.
Dalwhinnie Winter's Frost (Stark)
Billed as a whisky distilled in Arctic conditions, the Winter's Frost is nonetheless another easy-to-drink and light spirit that could be just as easily enjoyed on a summer evening as a hostile winter night.
It's a Highland expression with distinct Speyside character and plenty of light and floral notes. Expect to get Fuji apples and Nashi pear on the palate and a longish sweet finish. A drop of water brings out more of its oily character.
[/img]
Singleton of Glendullan Select (Tully)
Hailing from Dufftown, the same region of Speyside where Balvenie, Glenfiddich and Kininvie have set up shop, this boutique distillery has produced a very interesting expression for the Game of Thrones range.
On the nose, there's a bit of a dusty old bookstore aroma and some malt and honey notes.
The oily finish means it pairs well with smoked salmon, crispy fish skin and crème fraîche appetiser, with the estuarine theme also tying in with a Game of Thrones house that rule the Riverlands. Like many of spirits in this collection, it's a no age statement whisky, but this one seems at the older end of the scale.
Talisker Select Reserve (Greyjoy)
The beautiful label for this release, with its black and white ink drawing of an octopus's unfurling tentacles, sets the tone for a very quaffable maritime whisky.
Finished in ex-bourbon American casks, there's a strong influence of the char along with the seaweed notes often associated with Talisker. Enjoy it in a sour or with some freshly shucked oysters for the full briny effect.
Lagavulin 9-year-old (Lannister)
Never considered shrinking violets in the world of Game of Thrones, the Lannister house meets its match in a distillery known for churning out peated spirits that border on the confrontational. This nine-year-old isn't as peat-heavy as the older Lagavulin varietals, but it still packs a punch, with some of that charred, meaty flavour that is reminiscent of a rustic cookout.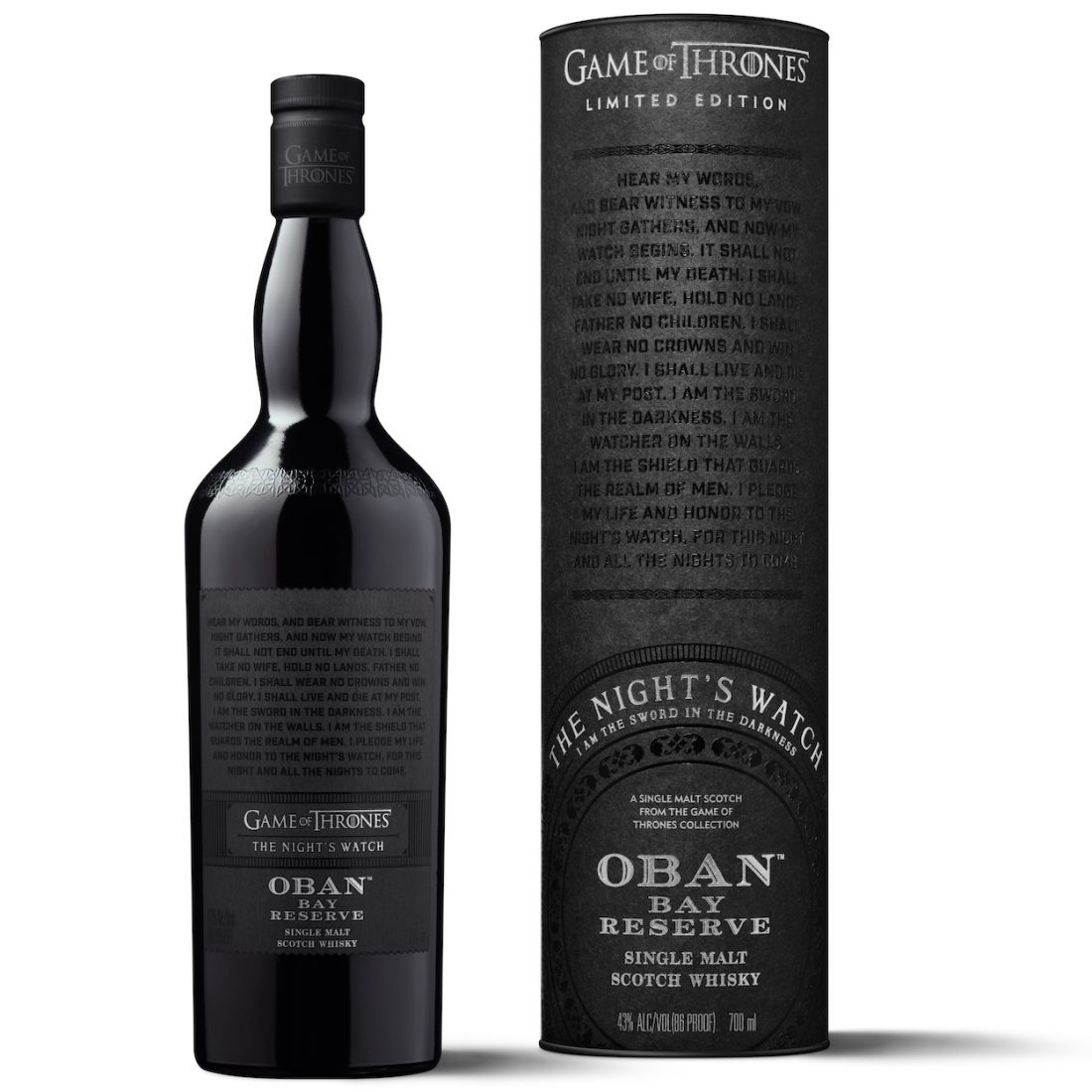 Oban Bay Reserve (Night's Watch)
Presented as the final dram at the launch, Oban's offering may be the richest and most satisfying entry in the series. The good news for those enamoured of the distillery, which is famously located beneath a dramatic cliff, is that this expression has very much opted not to fix what isn't broken.
This means there is plenty of that heady sea salt on the nose and co-mingling notes of cloves, blackberries, toast and some very faint smoke, like the trace of a campfire in the next valley, on the palate. The finish is long and lingering and the dark, handsome packaging, with silver lettering gleaming like a sword drawn on a pitch black night, rounds out a very appealing package.
Can't get enough of the Game of Thrones? Find out how you can enjoy the final season in complete luxury.